An Eco-friendly waste facility is coming to Robbins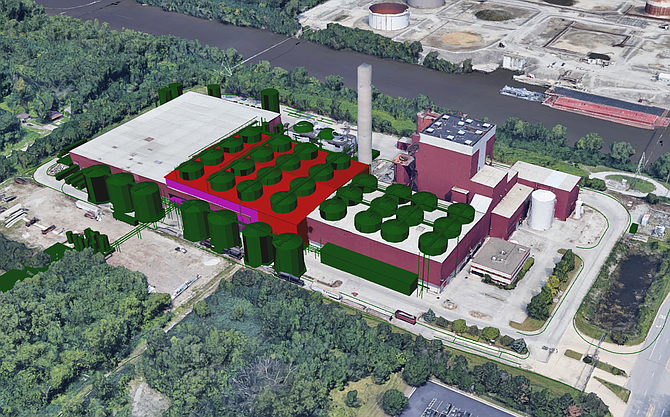 ---
 An Eco-friendly waste facility is coming to Robbins

By Tia Carol Jones

A 17- plus acre Anaerobic Digester facility is set for the site where the Waste to Energy facility once stood in Robbins, Ill.  The Anaerobic Digester is expected to open in late 2023 and bring 135 full-time jobs to the Village. Sustainable BioWorks, LLC, is redeveloping the site, located at 13400 S. Kedzie Ave.

Robert Fletcher, the senior manager of Sustainable BioWorks purchased the property in December 2014. Fletcher and his partners, Ron Fitzpatrick and Howard Hohl put together a new approach to handling food waste, which comes from a manufacturing facility. It is shipped up to Wisconsin where farmers buy it, process it and use it on fields and crops.

Fletcher traveled to Germany and China to do research for the best environmental approach to handling the material. This materials can't be put in landfills because it is 80% water and it would flood the landfills.
According to Vince Williams, of Vincent R. Williams & Associates, the facility in Robbins was used to produce energy from waste products and created electricity.

"When Bob acquired it, he knew that it would no longer be a facility that operated under the same program, they weren't going to be producing energy, but there was an opportunity to take that facility and create a valuable product and have negative emissions," Williams said.

The material comes into the facility in a liquified form, it is placed in a processor and from that process natural gas, nitrogen, ammonium sulfate and hot water would be created. There is already a gas pipeline near the facility. The nitrogen and ammonium sulfate can be processed and produced and sent off to farmers in pellet form. The water produced can be used to process cardboard.

Williams said the site was the best site that had more than enough room to put under one roof. The tanks will be designed by a German company. It is set to be one of the largest of its kind facility in America once completed.

The first concern is that it is clean, not hurtful to the community, and it is safe. The process of acquiring the land, engineering and design has taken four years.

"We just wanted to make sure the community is with us at every step of this process, and they understand exactly how this process works, what the product looks like, why this is such a vital and important opportunity for Illinois, and more importantly for Robbins," Williams said.

Williams said there is a target to have an on-site training center, to make it easier for people in the community to have access and be prepared for the jobs. Williams said the response from community members was positive.  The hope is that with the Anaerobic Digester jobs will be generated and more economic development will come to the Village.

"We are excited about working with a town that has had great moments in its history. We believe this is going to be not only good for Robbins, but also good for the Southland. We need these jobs, we need these opportunities and we're excited to be working closely with the Mayor and the trustees to help move this process forward as quickly as possible so that we can get people into these jobs," Williams said.
---