Season 2 of Emmy® Nominated Series, Harlem Globetrotters: Play it Forward Premieres Saturday, October 7 on NBC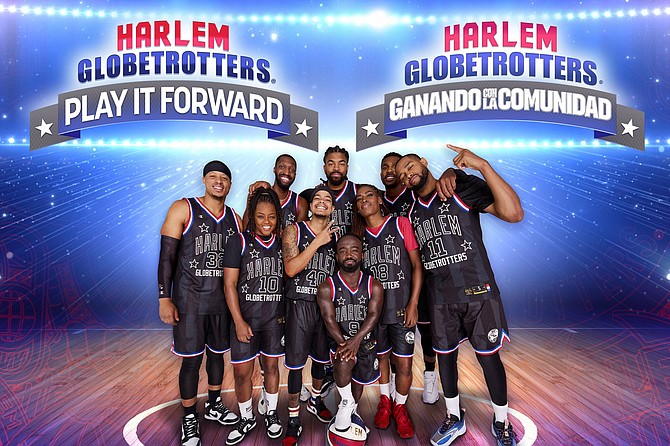 ---
Season 2 of Emmy® Nominated Series, Harlem Globetrotters: Play it Forward Premieres Saturday, October 7 on NBC
NEW YORK, PRNewswire-HISPANIC PR WIRE-- Season 2 of the Emmy® nominated series Harlem Globetrotters: Play It Forward premieres on NBC on Saturday, October 7th with a Telemundo premiere of season 1 of Harlem Globetrotters: Ganando Con La Comunidad on the same day. Both shows are produced in an exclusive partnership with Hearst Media Production Group (HMPG).
The 30-minute weekly series, hosted by actor/comedian Craig Robinson, premieres weekend mornings starting Saturday, October 7 on NBC's "The More You Know" educational/informational (E/I) programming block (times may vary; check local listings). Additionally, Season 1 episodes will debut in Spanish on Telemundo's "Mi Telemundo" E/I block Saturday mornings at 10:30 a.m. Eastern. The series will also continue to be available on NBC.com and NBC VOD.
For its inaugural 2022-2023 season, the show's unique content and format earned a daytime Emmy® nomination, two Cynopsis Awards for Best Platform Geared to Diverse Sports Interest and Athletes for Social Good TV Special or Episodes, and 11 national Telly Awards. Its overarching theme of inclusion has connected with viewers as underscored by Season One achievements including diverse viewership strengths among 18-49 African American and Latino demographics.
"There are few sports-and-entertainment brands more iconic than the Harlem Globetrotters. We look forward to expanding the franchise to Telemundo this season, providing an even more diverse audience with the opportunity to experience this inspiring show," said Bryan Curb, HMPG executive vice president and general manager, education/information.    
"We've always been a brand that celebrates, amplifies and encourages the importance of inclusivity across all that we do. The fact that we are here for everyone has been the secret to our success for almost 100 years," said Keith Dawkins, President of Harlem Globetrotters & Herschend Entertainment Studios. "Our partnerships with HMPG, NBCU and now Telemundo speaks to our transformation of the Harlem Globetrotters to a truly global entertainment brand that is reaching viewers across every format and wherever they are."
For the new season, the team, which has historically been recognized by the U.S. State Department as "ambassadors of extraordinary good will," will showcase philanthropic organizations and programs across the country including NASCAR's Drive for Diversity program, which provides training and opportunities for women and marginalized communities of color, providing first class driver and technical experience; and the power of "street poetry" in Los Angeles, that offers creative release for formerly incarcerated youth through poetry, rap and spoken word.
---