Young People Get exposure to professional careers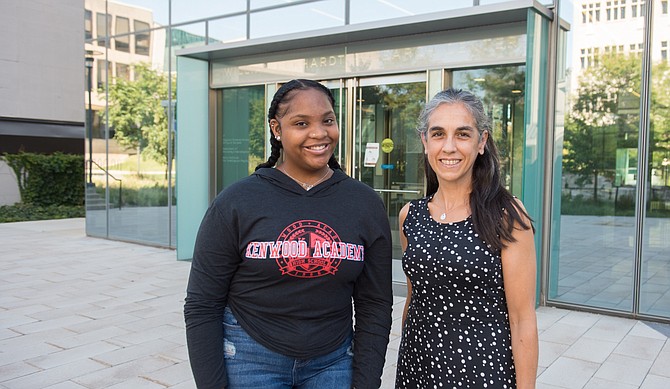 ---
 Young People Get exposure to professional careers

By Tia Carol Jones
This summer the University of Chicago launched a Youth Internship Program. The program paid Chicago Public High School students and paired them with an internship supervisor in different units throughout the University.

There were 10 students who participated in the program this year remotely. There is an aim to expand to 30 students next year and ultimately get to 100 students by 2024.

Deijah Beatty is a junior at Kenwood Academy High School who participated in the University of Chicago Youth Internship Program. Beatty wanted to get exposure to different professional careers and have skills to add to her resume and to her college applications, as well as expand her professional network.

Beatty who was placed at the Pritzker School of Molecular Engineering wants to become a neonatal surgeon. Her interest in STEM was developed through classes she took at the school.  She learned how to participate in research projects during her time in the internship. She also learned how to create a resume and craft a personal statement.

"My experience was very rewarding, it was very engaging, as well. I got an opportunity to do a lot of tasks that many high school students wouldn't be privy to. I also got a lot of opportunities to take leadership over projects," she said.

Abel Ochoa is the Executive Director of College Readiness and Access within the Office of Civic Engagement at the University of Chicago. The program partnered with different schools in the University.  The Pritzker School was one of the first to agree to accept interns. The program worked to pair interns with offices and site locations that would be mutually beneficial.

To help students to prepare, one day out of the week there was professional development and education date for them. Those days were meant to strengthen and introduce skill sets students needed in order to perform their tasks and projects.

Students learned how to draft a personal e-mail, to initiate a conversation with their supervisor and how to ask for help. Students also were given mentors who were undergraduate students from the college that met with those students weekly. Those undergraduate mentors checked on the interns to identify potential skill gaps related to what the students were working on.

The students also worked directly with their office and department managers and supervisors. They supported the students, coaching them and introducing skills that were necessary for them to be successful in their role.

Laura Rico-Beck is the Assistant Dean of Education and Outreach at the University of Chicago's Pritzker School of Molecular Engineering. Rico-Beck was Beatty's supervisor. Rico-Beck interviewed Beatty when she applied to the program, so she already knew her and knew that she had the focus, maturity, and skills to be successful in the program.

Each day, Rico-Beck and Beatty had a morning meeting to establish tasks for the day, and an end of day meeting where Beatty reported what she achieved and what challenges she faced. That system seemed to work out well.

"She really did exhibit some unique aspects of leadership, not necessarily in the sense of leading others through things, but actually understanding overall goals of a project.  Then also the ability to figure out what the intermediate steps were and how to get them accomplished.  Also, when she needed to ask for additional resources.  Along all of those fronts, Deijah did an outstanding job, well exceeding my expectations," Rico-Beck said.
---