PERFORMING ARTS AT THE HEART OF GLOBAL GIRLS, INC.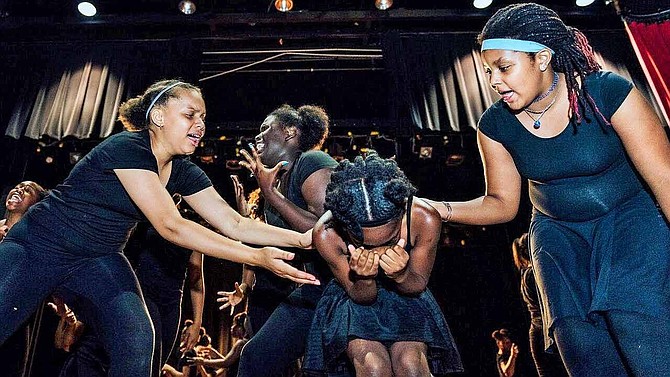 ---
Performing Arts at the heart of Global Girls, Inc.

BY TIA CAROL JONES

Marvinetta Woodley Penn taught high school English and theater for 19
years, she stopped teaching and traveled. She said, she realized something was missing in the girls she taught, and she missed working with the girls, so she founded Global Girls, Inc. Twenty- one years later, Global Girls, Inc. is still giving girls a voice and helpingthem realize there is something inside of them they can share with the world.

"Each girl has something inside of her that she can bring out, that she can manifest, and share with the world. She can blossom into her reality, her talents, and her skills, she can step in front of anybody at any time. Honestly, she can be who she is," she said. "You can show up everywhere you are, just the way you are, and it's fine because you're always bringing your best."

The girls who participate in Global Girls, Inc. are trained in the theater and dance. Penn believes that dance helps train the body, and helps develop focus, and the creativity, helps with grace. Theater helps one to be present in the moment and think on your feet as well as it helps with communication and reading skills.

"We're nurturing that whole child in our mission, we took a look at what young people are going through and turned that into stories that we put on stage," she said.

Penn said those stories are shared with other young people who get to see people who look like them, telling their stories. Global Girls goes to preschools and day care centers to perform the plays. "We are giving other children, and adults, in our community another look at the possibilities for Black girls, and guys. Although it's Global Girls, we
do work with some guys," she said.

Penn said Global Girls has always been located on the South Side. The Global Girls Studio is located at 8151 S. South Chicago Ave. She said, she always wanted the organization to be for Black girls. When she was teaching, she saw what was happening to Black girls and she wanted to give them that layer of confidence, to let them know they are perfect just the way they are, a springboard to go on into the world and do your thing".

Penn is working on a first-class facility for Global Girls, Inc., she is
impacting the community to show another model, another way to be, another mindset. Penn loves what she does.

Penn follows her ikigai, a Japanese concept that deals with life's purpose and having a sense of fulfillment. "Everyday they're thinking about their reason for getting up in the morning, they're thinking about something they love, something that benefits the world, something they can make money from and something that nourishes their soul," she said.

Since Global Girls, Inc., began there have been 70,000 girls serviced. The organizations partners with Chicago Public Schools and other community organizations to do a theater and dance program. Global Girls also travels the world. The participants have been to Ghana, Kenya, India and Grenada.

Penn said there are girls who have gone through the program and reach
out to say they were in the program and still remember parts of the program. She said there are also children in the program who are the children of girls who were in the program.

Penn said throughout the years, she has learned, what the girls need the most is unconditional love and somebody looking in their eyes and saying, "you are so wonderful, you are so beautiful, you are perfect just the way you are and I'm going to love you, until you learn to love yourself." She added, they needed people to shut up, listen to them and be there for them.

Global Girls, Inc. is working on a showcase this summer. They are planning to travel to Tanzania in February.

For more information about Global Girls, Inc., visit www.globalgirlsinc.org, or call 773-902-2359.
---