STRATEGIST DISCUSSES STIMULUS, SHARES TIPS AND TALKS ABOUT INVESTING IN YOURSELF
4/28/2021, noon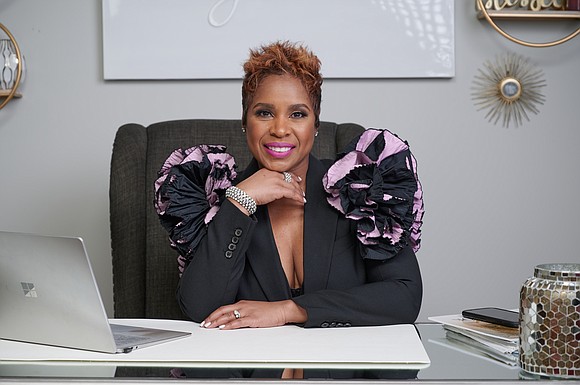 Strategist discusses stimulus, shares tips and talks about investing in yourself

BY TIA CAROL JONES
     Ingrid LaVon Woolfolk has been "doing numbers" since she was six years-old. She would help her "big mama" figure out how much money she would make from selling dinners.
    Woolfolk has been in business finance for 20 years. She has worked for two major corporations and managed up to $1 billion in topline revenue. Now, she's taking that expertise to what she calls micro-businesses— or wha some would call, small businesses, who are operating with 20 employees or less.
     "While many people have taken the opportunity to think about and reinvent themselves, I've been able to insert my passion and expertise into everyday lives, by saying you've got to save more, you have to make more than you spend, you have to make sure that you're making the money work for you, you have to make sure you have more money coming in than you have going out," she said.
     Woolfolk said it is basic information but with COVID-19, people are able to sit down and figure these things out. "It doesn't matter if you're starting a business with $100 in your pocket or a $1 million investment. At the end of the day, that $100 can become $1 million and that $1
million can become $100 if you don't manage it correctly," she said.
     Woolfolk added, she felt it was her duty and purpose to use her expertise to help people with their finances. When it comes to the things she wants people, particularly Black and brown people to realize about personal finance is that conversations about investing should
start early and people should understand the importance of keeping their credit clean.
     "You get 30-years-old and battling credit issues. So, if we had an opportunity to start early in the education, implementing personal financial education into the educational system, is paramount," she said.
     Woolfolk said if that educational piece would start with students early, it could create a group of wealthy people from that generation on. She said she wishes that she would have started taking the advice she was giving other people earlier.
STIMULUS
     The stimulus has been a hot topic lately. She said with people being given money, which some have never received that kind of money,
she doesn't want to see the lottery effect. She said the person who went from having nothing at all to having $4 million and they go back to
where they started, homeless.
   She has tips for people:
     Pay Yourself. Take a minimum of 10 percent and put it to the side for a rainy day. Invest in Yourself. Figure out what you want
to do, from taking online classes to getting a certification and put money towards it. Save Yourself. Don't wait for someone to leave you something. Take the initiative to save yourself and be intentional about your actions and your network.
TALENT MANAGER
     Woolfolk is a senior talent manager and profit strategist for Sunni Gyrl Entertainment, where she works with MC Lyte and Dr. Lynn Richardson. She said it was a world she knew nothing about, but she was embraced with open arms and she has been with Sunni
Gyrl Entertainment for six years. She has also worked with many celebrities from the 1990's era who have been building and pivoting from being 1990's rappers and entertainers to moguls and business owners.
     "They have been able to leverage my expertise and not go from deejaying and rapping but now on TV and acting and voice overs and things of that nature, clothing lines and all sorts of things. And, I'm excited that I was instrumental in doing that," she said.
     Woolfolk said everything she did in a corporate setting, she did as a talent manager. It was her job to travel with the talent on the
road, review the contracts and the terms and conditions.
     "I put it into their world, and I forced them to think and look at their business different. Because most entertainers and actors in that
space, industry people, they look at their life as 'I'm an entertainer.' But what I teach them is they are a walking business, you are a brand before brands were brands," she said.
     Woolfolk added, once those entertainers understand there are other aspects of their lives that they can monetize, they get super excited. She said it takes the stress off of them because now they are known for their clothing lines or TV shows. She said it has been rewarding for her to get into that space.
PERSONAL STRENGTHS
     Woolfolk said people who want to put themselves in a better financial space should figure out what they are good at and what their strengths are. "What are you good at, what are your unique attributes, what do people call on you for, what would you do for free, if you didn't have to work. Those are strengths. What advice are you always giving, time and time again, monetize it," she said, "And, when you
combine that with your strengths, with [what] you owe, and who you owe, and what you own, that becomes your superpower. That is where you invest, that is where you start the business."
     Woolfolk said, failure is part of the process. She said to start to think about how to fail as fast as possible and come up with a personal mitigation plan. Woolfolk has created "The Decade Planner," "The Decade Planner, Your First Five Years," as well as a monthly action plan workbook. In May, the "Decade Planner Start Where You Are Journal," will be available for purchase. She is also the author of "Living After Divorce: 21 Ways to Heal and Move Forward."
     For more information about Ingrid LaVon Woolfolk, visit ingridlavon.com.