Housing Choices for Blacks Has Fallen and Risen
2/12/2020, noon | Updated on 2/12/2020, noon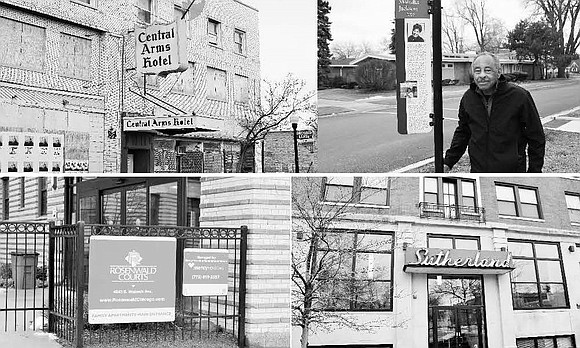 Housing Choices for Blacks Has Fallen and Risen
BY WENDELL HUTSON
Contributing Writer
There used to be a time when blacks had to be careful where they lived in Chicago and the suburbs because segregation had divided people up based on their race and economic status.
To some degree, housing is still based largely on race and income even though The Fair Housing Act (Title VIII of the Civil Rights Act of 1968) outlawed such measures. Under this federal law, it is illegal to refuse to sell or rent a dwelling to any person because of religion, sex, familial status, race, color, disability, or national origin.
From 1910 to 1930, the "Great Migration" occurred and brought large numbers of blacks to Chicago from the South. In fact, from 1940 to 1960, blacks began coming to Chicago in droves (which historians said was around 60,000) hoping to find good, paying industrial jobs.
But Chicago's housing market grew thus pushing blacks seeking housing to what was called the "Black Belt" located between 12th and 79th streets and Wentworth and Cottage Grove avenues. And such overcrowding resulted in poor housing conditions for blacks, which was the goal of whites, according to Timuel Black, a 100-year-old historian.
He said the game plan all along was to keep blacks out of good neighborhoods and lump blacks together in one concentrated area.
These days, a millennial wouldn't know what a "kitchenette" is but Black said, "those of us old enough to remember can tell you it was not an ideal place to live."
With supply not being able to keep up with demand, landlords opted to divide up apartments also known as kitchenettes and then charged ridiculous rents for units with no bathrooms.
Fast forwarding to nearly 30 years later, local housing choices for blacks improved after years of decline. The Chatham neighborhood on the South Side has historically been a middle-class area where blacks "with a little money" would move to once they "made it," explained former U.S. Sen. Roland Burris, who has lived in Chatham since 1963.
"I remember as a young man I would drive through Chatham and look at all the beautiful homes and say to myself 'one day I will live here.' And wouldn't you know it, I have been a Chatham resident now for almost 60 years," Burris told the Citizen. "For as far as I can remember, Chatham has always been a predominately black neighborhood although I am beginning to see a few whites walking their dogs in the area, so I guess the neighborhood is diversifying and that's good."
According to census data, Chatham has a population of 32,844 whose residents are 97 percent black, 2 percent white and 1 percent Hispanic.
Burris, an 83-year-old husband, father and grandfather, lives in the same home he bought in 1972 from the late gospel singer Mahalia Jackson.
"I bought this home January 30, 1972 and Mahalia died Jan. 27, three days before the sale was to become final," recalled Burris, who was a real estate attorney at the time. "Her family tried to stop the home from being sold but it was too late because a contract for the home was already in place. It is my desire to remain in this home forever."