ComEd Partners with Chatham Business Association on Smart Meter Outreach Program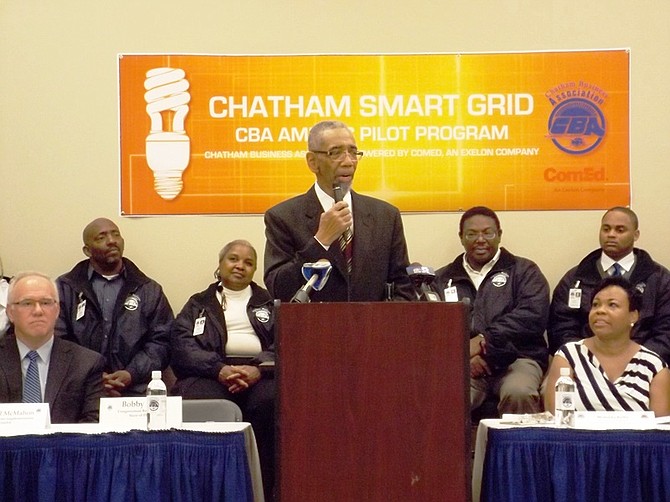 ---
Federal and locally elected officials and area business owners, gathered Monday at the QBG Foundation/Chicago Citizen Newspaper headquarters, 806 E. 78th St. in Chicago, to discuss a recently launched, pilot, training and employment partnership between ComEd and the Chatham Business Association (CBA) at the behest of Cong. Bobby Rush (Dist.-1), as a way to bring jobs and economic development to the greater Chatham area.
In 2011, the Illinois General Assembly required ComEd to spend up to $2.6 billion over 10 years for power infrastructure improvements with roughly half of that money earmarked for smart grid upgrades.
ComEd currently is modernizing its electric system to build a smart grid that merges the power of computers with the electric grid-- the electric infrastructure made up of poles, wires and substations that provides electricity to customers.

Smart meters are the smart grids' building blocks and will be installed in all homes and businesses across northern Illinois. Smart meters allow customers to see their energy use so that they can make changes to save money on your electric bills, according to information on ComEd's website.
More than 750,000 smart meters have already been installed across northern Illinois with plans for installation of approximately 4 million smart meters in all homes and businesses across northern Illinois by the end of 2018.
"I want to thank Melinda Kelly, (CBA's Executive Dir.,) for her unrelenting, advocacy on behalf of Chatham. I also want to thank ComEd...," said Rush to the audience. "The young people sitting behind me are really proving that when you hire from the community you get the job done effectively, you also enhance the community; that is the message we carry forth."
Rush also mentioned Gwendolyn Brooks College Preparatory Academy special education teacher, Dr. Betty Howard, 58, who was killed last May by a stray bullet as she sat in a Chatham area real estate office on the 700 block of East 79th Street, saying she championed programs for improvement of the greater Chatham community.
"This message of hope and healing centered around a meeting I had where we brought a lot of leaders, mayors, governors and other leaders from, newspaper publishers, to general managers of television stations together…all convinced this problem could be solved through job opportunities for some of these young people," said Rush. "We wanted to come up with concrete solutions to combat some of the challenges in Chatham. I'm giddy to see these young people who were victims of some of the problems and challenges and now epitomize hope."
The program started with 15 trainees and ended up with 10 who were paid $10.00 an hour.

Chatham and other south side residents were hired from City of Chicago's, Work Force Development program and a recent job fair, for the three-month pilot program to talk to customers about the benefits of smart meters in an effort to help installers gain access to existing meters.
"The Chatham Business Association (CBA) has been working with local officials to bring new opportunities to residents of the Chatham neighborhood," said Kelly. "CBA is glad to partner in this business savvy smart meter pilot program launched in Chatham. In week one, CBA's Community Outreach team was able to contact 903 addresses, schedule 45 appointments and eliminate 83 vacant properties from ComEd's Unable to Complete (UTC) list, bringing the benefits of smart meters and cost savings to area residents...on behalf of CBA's Board of Directors, I want to thank Cong. Rush for his leadership and ComEd for allowing CBA to create an innovative model program that creates jobs with economic value in our community."
Trainee Clifford Borner, II, 21, said, "(The training program) model is a great example for any community."
Kevin Randall, also a trainee, said, "Being hired from the community is a great way to enhance the community."
Kevin Brookins, Senior Vice President, ComEd, said "ComEd is proud of the work it's done to bring opportunities to the Chatham area. Rush's call was timely and ComEd was proud to respond."
Brookins added the results of the pilot program will be reviewed but no decision has been made on whether there will be another program.
---