Activist to Challenge Mayor Rahm Emanuel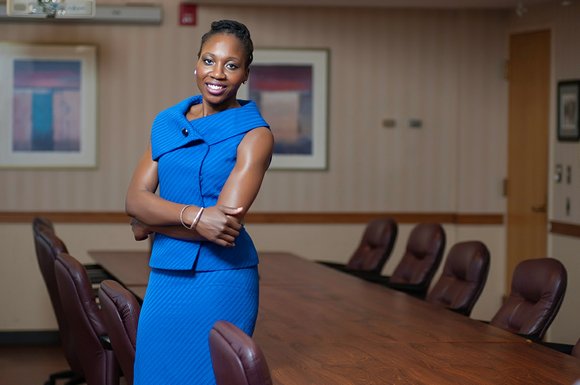 Amara Enyia, 31, gives new meaning to the term, "Black Girls Rock" as she boldly steps into Chicago's political arena with a fixed eye on a mayoral prize.
Though Enyia, an East Garfield resident and community activist with a law degree and doctorate in educational policy, faces an uphill battle in her quest to unseat chicago Mayor Rahm Emanuel in the 2015 Mayoral election, her courage and wherewithal in doing so, sets an inspirational and empowering tone that sends a message to black girls and black people everywhere that getting involved and taking part in the process is how you bring about change she says.
The Chicago Citizen Newspaper recently spoke with Enyia about her political aspirations.
Chicago Citizen: Why are you running for mayor?
Enyia: What's driving me is that we're living in an historic time in this city with all the crime and violence, the school closings and the rate of unemployment. There's a sense of urgency to addressing these issues and I see an opportunity for people to begin to ask critical questions to bring about change and transform the 'status quo' machine driven, politics. It's time for us to elect leadership that reflects our values and that will only happen if people are not afraid to get involved.
Chicago Citizen Newspaper: What is your background and current occupation?
Enyia: I have a doctorate in education policy, a law degree from the University of Illinois, Champaign, Urbana and I started ACE Municipal Partners, a consulting firm. I'm also executive director of the Austin Chamber of Commerce and I'm involved with various nonprofit agencies.
Chicago Citizen Newspaper: Are you currently campaigning?
Enyia: Yes I am. We're in the middle of our Unity Tour where we're going into all the Chicago areas to talk to people to hear their visions and to share ours. We want to inspire people to get involved.
Chicago Citizen Newspaper: How much do you have in the way campaign funds?
Enyia: We've set up our fundraising infrastructure and donations have been coming in.
Chicago Citizen Newspaper: Do you think your quest for such a powerful leadership position is inspirational for young black women?
Enyia: Yes. I feel seeing me involved sends a powerful message because if all they see is crime and violence, it will just be more of the same. I feel this is something extraordinary. I want people, especially young people, to see that they can tap into the power they were born with and challenge the status quo.
Chicago Citizen Newspaper: I'm sure you're competing to win, but aside from that, what do you hope will occur along the way in your quest to become Chicago's next mayor?
Enyia: My hope is to win of course and hopefully invigorate the electorate in terms of the role they play in the outcome of their lives. We're talking about a movement here and people have to get involved and increase voter participation which was very low in the last election.
So far Enyia, will be running against Mayor Emanuel and former Ald. Robert Shaw.
Karen Lewis, president of the Chicago Teachers Union, and Toni Preckwinkle, president of the Cook County Board, have also been mentioned as potential candidates but have not made any public declaration that they plan to challenge Emanuel.
Signature collections to have her name included on the ballot for the mayoral election begin in Aug.