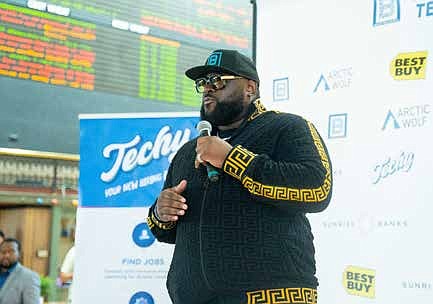 Black Tech Talent CEO Mike Jackson speaks at the organization's second annual Community TechFest. (PHOTO CREDIT: FRANCIS SAMPAH)
Stories this photo appears in:

On Saturday, November 12, 2022, Black Tech Talent held its 2nd annual Community TechFest at coworking space Fueled Collective - Downtown in Minneapolis. Sponsored by Best Buy, Arctic Wolf, and Sunrise Banks, the event saw more than 400 attendees throughout the event's four-hour duration. Keynote speaker Tarek Tomes, Commissioner and Chief Information Officer at Minnesota IT Services, discussed his experiences pursuing a career in technology and what piqued his interest in the field, while outlining the importance of attending events such as Community TechFest to spark inspiration for one's future.