More Than 400 People Attend Black Tech Talent's 2nd Annual Community TechFest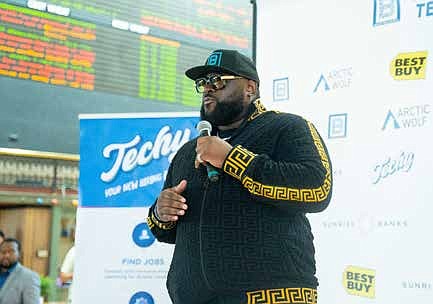 ---
More Than 400 People Attend Black Tech Talent's 2nd Annual Community TechFest

On Saturday, November 12, 2022, Black Tech Talent held its 2nd annual Community TechFest at coworking space Fueled Collective - Downtown in Minneapolis. Sponsored by Best Buy, Arctic Wolf, and Sunrise Banks, the event saw more than 400
attendees throughout the event's four-hour duration. Keynote speaker Tarek Tomes, Commissioner and Chief Information Officer at Minnesota IT Services, discussed his experiences pursuing a career in technology and what piqued his interest in the field, while outlining the importance of attending events such as Community TechFest to spark inspiration for one's
future.

Of the various activities that were available, participants
were most excited about video gaming with
the Minnesota Esports Club, drone racing with the
Youth Drone Sports Championship, and playing in
Black Tech Talent's Metaverse, which was developed
in partnership with the virtual reality company Rem5
VR. Black Tech Talent's original superhero Black
Circuit joined a young boy who was playing in the
Metaverse as Black Circuit. The boy's father posted a
video of the interaction to Instagram, writing, "Imagine
playing a video game with the character you're
playing with." Moments like this affirm Black Tech
Talent's efforts to expose the community to technology
and its various applications.

Jackson says it feels amazing to be able to have
an impact on the community. "To have attendees
say that they're going to come back every year, that
they're mad that they've been missing out, or that
they're actually signing up for some of the programs
to learn how to code or to learn how to get into gaming
or drone racing, is humbling," he said. "I feel like
we're literally changing people's lives."

Black Tech Talent (www.blacktechtalent.org)
was launched by Michael A. Jackson in July 2020
and is working to bridge the racial equity gap. The
award-winning organization (2022 Minneapolis/St.
Paul Business Journal 40 Under 40, 2021 MN Cup
Impact Ventures, Tekne Awards, Inclusive Evolution
Award) leverages relationships with leading tech
companies to provide a platform for Black technologists
to find jobs, training, and culturally specific content,
and a sense of community. They also produce
the podcast BTT Discussions.
---