Living Fresh Market Celebrates Transition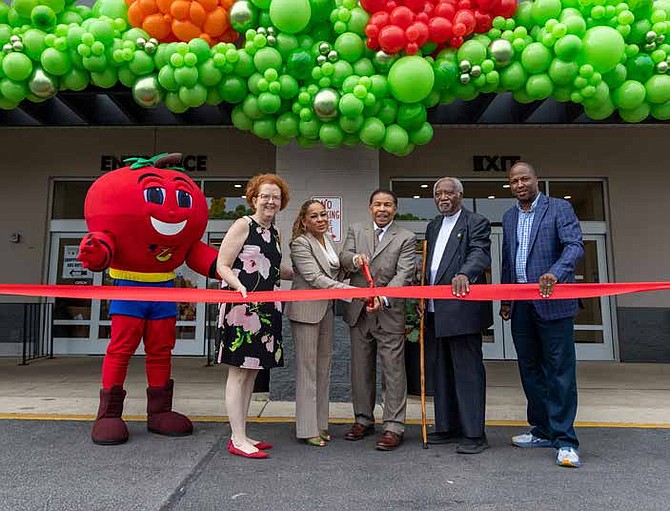 ---
 Living Fresh Market Celebrates Transition
 
 By Tia Carol Jones

 The Reverend Dr. Bill Winston has been feeding souls spiritually as the leader of Living Word Christian Center in Forest Park, Ill.  With Living Fresh Market, Winston and his daughter Melody Winston, are able to feed the community by providing healthy food and fresh produce.

 Winston said her father opened Living Fresh Market because he believed having a grocery store that could service the community with healthy food was the right thing to do. Previously, the grocery store was an Ultra Foods. That chain closed all of its stores in 2017. Because Living Word Christian Center owns and operates Forest Park Plaza where the market is located, they rented to Leamington Foods for two years.

 Because the model of that grocery retailer were different than the needs and demographics of Forest Park and the surrounding communities, it was difficult for them to be successful. Instead of closing the market, Winston made the decision to keep the store, fix it up and run it to benefit the surrounding communities.

 In October of 2021, Living Word Christian Center was given the keys to the grocery store, which is located at 7520 West Roosevelt Road in Forest Park, Ill. After two years and a hefty renovation project, Living Fresh Market hosted a ribbon cutting this month.

 "We never closed the store. My father didn't want to close the store, because it did have customers who supported the store," Winston said, adding that customers could see a transition taking place in the store.

 Part of the transition included, a change in staff, a coffee bar and juice bar. The grocery store has all major brand names and inventory, with full vegan, organic and plant-based items, full freezer. Winston said she wants the coffee bar to be able to compete with other popular coffee shops.

 Winston said a lot of times, people can come into Living Fresh Market, and find items that people might not be able to find in other grocery stores. The grocery store has a partnership with Brown Sugar Bakery and Brown Cow Ice Cream Parlor.

 "We try to make sure once you come in and you start shopping or touring the store, you can find some things that you just won't find anywhere else," Winston said.

 Living Fresh Market also has made a commitment to partner with other Black and brown and minority-owned food vendors. Winston believes those partnerships add value to the store as a whole, it supports the surrounding communities. Winston also sees it as a good opportunity to spotlight and help build up minority-owned vendors throughout Chicagoland and across the country.

 The goal is to expand the Living Fresh Market brand. Dr. Winston is always looking to scale up. He believes that when it comes to retail, grocery stores represent a big market. Winston said there are conversations with leaders in Maywood and Bronzeville to open locations in those communities in 2024.

 While grocery stores and big box stores are losing in communities that desperately need fresh food and produce, Living Fresh Market is willing to take the risk and come into those communities and provide those goods.

 "Pastor made a statement last week that, 'It's not a risk for us to take being in the grocery business or even opening more stores, the risk is, not being able to service communities that have need for healthy food options," Winston said.
 
---