5 Gum® Teams Up With J.I.D to Release Exclusive Track Available on Only 5 Boomboxes in the World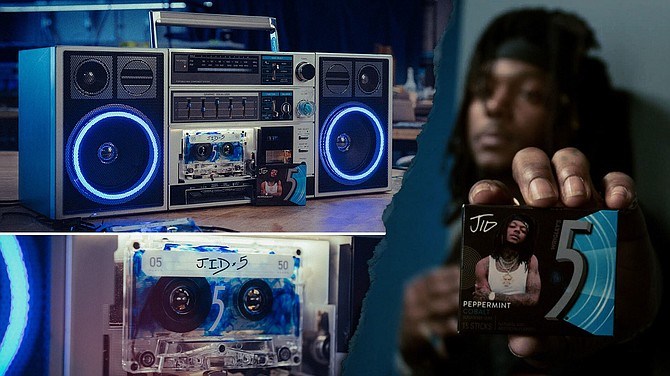 ---
5 Gum® Teams Up With J.I.D to Release Exclusive Track Available on Only 5 Boomboxes in the World
5 lucky fans will get the exclusive chance to hear J.I.D's custom song 5 times before the boombox, featuring the rappers chewed gum, physically "chews up and spits out" the cassette tape
NEWARK, N.J., PRNewswire -- Mars' 5® gum announced its "5 in a Lifetime" campaign, in partnership with critically acclaimed lyricist and performer J.I.D to honor one of the most monumental moments in music history – the 50th anniversary of Hip Hop. Connecting Hip Hop fans with their favorite genre in a way never done before, 5 gum teamed up with J.I.D to release a special new track inspired by and packed full of audio references from 5 of Hip Hop's most influential albums, such full "Word of Mouf" from Ludacris, "What's the 411?" from Mary J. Blige, "Resurrection" from Common, "Phrenology" from The Roots, and "Shock Value" from Timbaland. But there's a catch: only 5 lucky fans will get the opportunity to listen. One song. 5 listens in a lifetime.
To release this exclusive track and deliver a never-before experience to music fans, 5 gum will host a sweepstakes giving fans an opportunity to win one of only 5 limited edition, retro boomboxes containing J.I.D's custom song on a cassette that will "self-destruct" by shredding the tape after 5 listens – preserving the exclusive listening experience forever.
A true one-of-a-kind collector's item that can't be found – or heard – anywhere else, each "5 in a Lifetime" player is made from an upcycled old-school boombox, featuring transparent casing, a vintage analog counter as well as lucite-embedded volume knobs with a piece of Peppermint Cobalt 5 gum chewed by J.I.D at its center. Starting today until Tuesday, October 31st, fans can enter for a chance to win one of the 5 custom boomboxes to hear J.I.D's exclusive song by visiting www.5gum.com/JID.
"As someone who eats, sleeps and breathes music, there is absolutely nothing like hearing a deep and meaningful song for the very first time – it's an experience you never get back and is pivotal for music lovers like myself. To work on a project that revolves around that thrilling experience, tied to some of the most iconic names in Hip Hop, is really dope," said rapper J.I.D. "I'm grateful 5 gum approached me with this opportunity, and I hope the fans who hear the track enjoy it as much as I do."
"Hearing new music from one of your favorite artists for the first time is often an inspiring, sensorial and exhilarating moment – which is exactly the experience we hope to deliver through our "5 in a Lifetime" campaign," said Maria Urista, Vice President at Mars Wrigley. "To create a musical masterpiece with the talented J.I.D, release it in a way that pays homage to the pre-digital era, and authentically capture the thrill of only hearing the song for a limited time, is really something special. We are so excited to deliver this song to lucky hip hop and 5 gum fans, and continue to celebrate the 50th anniversary of hip hop."
To further celebrate and memorialize the significant 50th anniversary of Hip Hop, 5 gum will gift one unique analog boombox and make a $20,000 donation to The Hip Hop Museum to help further their mission to preserve the rich history and culture of Hip Hop music. Visitors to the Museum, which opens its doors to the public in 2025, will be able to visit the donated boombox and embrace the "thrill" themselves.
"We are incredibly thankful for 5 gum including The Hip Hop Museum in their initiatives to celebrate Hip Hop's 50th anniversary," said Rocky Bucano, founder and Exec. Director of The Hip Hop Museum. "The cultural influence of Hip Hop goes far beyond music and entertainment. It's a global movement that brings people together and inspires them to actively chase their dreams. The support from 5 gum and J.I.D greatly assists in furthering our museum's mission to inspire, empower and to promote understanding of this rich culture's history."
To keep up with campaign updates and see a behind-the-scenes look at the thrill felt on stage and in the studio with J.I.D, fans can visit www.5gum.com and follow 5 gum on Instagram, Twitter, TikTok and Facebook.
---