Hyde Park Art Center announces programs for Candace Hunter's largest solo exhibition
The Alien‐Nations and Sovereign States of Octavia E Butler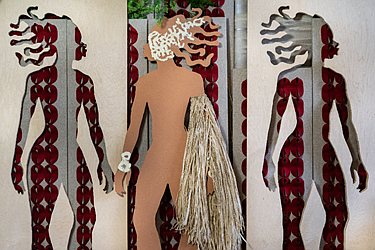 ---
Hyde Park Art Center announces programs for  
Candace Hunter's largest solo exhibition
The Alien‐Nations and Sovereign States of Octavia E Butler
Reading circles, writing workshops, and concerts will explore Hunter's interpretation of Butler's world, including Martin Luther King Jr. Day and Women's History Month activations
Hyde Park Art Center, the renowned non‐profit hub for contemporary art located on Chicago's vibrant South Side, announces programs for Chicago‐based artist Candace Hunter's largest solo exhibition to date, including activations for Women's History Month and Martin Luther King Jr. Day. With reading circles, writing workshops, and concerts, exhibition programming will explore the ideas of speculative fiction author Octavia E Butler (1947‐2006), whose works serve as inspiration to Hunter's most immersive exhibition to date. In The Alien‐Nations and Sovereign States of Octavia E Butler, Hunter presents a series of assemblage‐based works, installations, video, and sound works that illustrate the meticulously constructed worlds Butler imagined in her novels, examining their significance for Black bodies and future societies. Candace Hunter: The Alien‐Nations and Sovereign States of Octavia E Butler will be on view from November 11, 2023 to March 3, 2024. The exhibition is co‐curated by the Art Center's Public Programs Manager Ciera Alyse McKissick and Director of Exhibition & Residency Programs Allison Peters Quinn.
In The Alien‐Nations and Sovereign States of Octavia E Butler, Hunter presents new works created with synthetic plants, remnants of a sustainable food experiment, a reading nook, and painted doors as imagined portals to other worlds to create what she describes as an "alien lush space." The exhibition addresses the concepts of nationhood. Hunter poses questions about who is other, and in what situations do we see people as other to ourselves? How do we become universal?
A highlight of the exhibition is the installation Lilith's Journey, inspired by Butler's Xenogenesis Trilogy (Lilith's Brood), which features a sequence of female silhouettes interspersed with full-length distorting mirrors. The figure represents the matriarch and Lilith's ability to lead and grow a new civilization, while the mirrors explore the relationship between the gaze and creating feelings of otherness. Comparing the Parable of the Sower to the Trump era and using Xenogenesis Trilogy (Lilith's Brood) to explore what "alien" worlds might exist beyond America and its race relations today, Hunter's exhibition creates a speculative space where multiple generations come together to envision a better future.
Candace Hunter says, "I've been working with Butler's content for over a decade. I was drawn to Butler's work because she was a Black girl in literature creating worlds that were fantastical. It was a world you could find for yourself or create. You could just think of something, and it is. That was my first understanding of conceptual art: I can just make it, and it is."
In response to the Black Lives Matter movement, when the phrase "I can't breathe" became prevalent in the fight for justice for Black lives, Hunter believes that "the future is breath," a sign of life and growth. The phrase will radiate in neon in the exhibition's center installation A Collision of Worlds, which incorporates broken mementos, plant life, and burnt matter to allude to the chaos of Butler's imagined worlds and their resemblance to our own. The neon words serve as a reminder to visitors of Afrofuturism's dependence on the preservation and elevation of Black bodies and voices in the present.
Rooted in her identification as a Black woman and spanning over two decades, Hunter's work has explored the crises she predicts will impact twenty‐first century society at large, from capitalism and climate change to food justice, humanism, and the politics of water. In Butler's novels, the Black female heroes navigate an earth devastated by climate catastrophe and war to lead survivors to a new world ‐ either on this planet or the next planet.
RELATED PROGRAMS
Fall Center Days
Saturday December 9, 1-4PM, Free
Fall Center Days at the Hyde Park Art Center celebrates the opening of
Candace Hunter: The Alien‐Nations and Sovereign States of Octavia E. Butler
with exhibition viewing and related art-making activities, in addition to an Afrofuturism and science fiction popup book shop with local Black women-owned bookstore, Semicolon Bookstore & Gallery. Offered quarterly, Center Days activate the entire building with intergenerational art-making activities, artist workshops, artist talks, open studios, and community collaborations.
Catwalk Concert: Brown Girl Magic
Thursday, December 14, 6-8PM, Free
Inspired by
Candace Hunter: The Alien‐Nations and Sovereign States of Octavia E Butler
, the Hyde Park Art Center's final Catwalk Concert of the season features the Brown Girl Magic Trio comprised of musicians Dee Alexander, Coco Elysses, Carmani Edwards, and Didley-Bo. Catwalk Concerts is a music series in partnership with Experimental Sound Studio situated on the Art Center's Jackman Goldwasser Catwalk overlooking the main gallery.
The Future is Breath: An Artist Talk on Afrofuturism and Speculative Fiction

Monday, January 15, 12-1:30PM, Free
On Martin Luther King Jr. Day, the Hyde Park Art Center presents a conversation centering the work of exhibition artist Candace Hunter and the legacy of Black science fiction writer, Octavia Butler, that inspires Hunter's current exhibition. The conversation will focus on the shared sense of world-building within Butler's literary work and Hunter's reimagining of spatial representation. The conversation will explore the legacy and impact of Butler on the Afrofuturism movement and speculative fiction as a literary genre. The title of the program, "The Future is Breath," speaks to the current conversations surrounding the Black Lives Matter movement and highlights conceptual ideas relating to the future of Black people and their evolution in lieu of the grief surrounding Black death.
 

Past, Present, and Future Tense: An Octavia Butler Writing Workshop
Saturday, February 10, 12-3PM, Free
The Hyde Park Art Center presents a writing workshop delving into the genres of Afrofuturism, speculative fiction, and science fiction, inspired by the work of Octavia Butler and current exhibition,
Candace Hunter: The Alien‐Nations and Sovereign States of Octavia E. Butler
. The workshop is free, open to all, and directed towards BIPOC women and teens.
Octavia Butler Read-a-thon
Saturday, March 2, 12-3PM, Free
This Women's History Month, Hyde Park Art Center celebrates the books and author inspiring Candace Hunter's current exhibition, The Alien‐Nations and Sovereign States of Octavia E Butler. Visitors and community members are invited to a collective public reading of excerpts from Lilith's Brood and Parable of the Sower, which celebrated its 30th anniversary in 2023.
ABOUT THE ARTIST
Candace Hunter (chlee), a Chicago‐based artist, creates collage, paintings, installations, and performance art. Plainly, she tells stories. Using appropriated materials from magazines, vintage maps, cloth, and various reused materials, she offers this new landscape of materials back to the viewer with a glimpse of history and admiration of the beautiful. A highly respected artist in the Midwest, chlee's recent honors include the Elevate Climate Changemakers Award (2022), 3Arts Next Level Award (2021), the Tim and Helen Meier Family Foundation Award (2020), the 3Arts Award (2016) and honored by the Diasporal Rhythms Collective. She was also a featured speaker at the 24th Gwendolyn Brooks Black Writers' Conference: We Are Each Other's Harvest (2022), and the Midwest Women in Ecology Conference (2019). Hunter's most recent notoriety has come from her Brown Limbed Girls series, which are painted and collaged 20 x 20‐inch works, more than 130 and counting, that were born during the COVID‐19 pandemic and their sole purpose was to depict brown girls in various states of joy. To date, those images have been featured on Chicago billboards, three book covers, in two major shows in New Orleans and Oakland, and in many private collections, including that of Actress CCH Pounder.
ABOUT HYDE PARK ART CENTER
Hyde Park Art Center, at 5020 South Cornell Avenue on Chicago's vibrant South Side, is a hub for contemporary arts in Chicago, serving as a gathering, production, and exhibition space for artists and the broader community to cultivate ideas, impact social change, and connect with new networks. Since its inception in 1939, Hyde Park Art Center has grown from a small collective of artists to establishing a strong legacy of risk-taking and experimentation, emerging as a unique Chicago arts institution with social impact. Today, the Art Center offers a diverse suite of programs for artists and art lovers of all backgrounds, ages, and stages in their careers including: contemporary art exhibitions in six galleries; open-access community-based school with 1,500 annual enrollments; weekly arts education to 1,000 elementary school students in public schools; weekly and summer teen programs for 100 teen artists; professional-advancement programs for artists; a local and international artist residency; and public programs that connects residents with Chicago art and artists. The Art Center functions as an amplifier for creative voices of today and tomorrow, providing the space to cultivate new work and connections. For more information, please visit
www.hydeparkart.org
.
---