H&M STUDIO CELEBRATES 10 YEARS OF DESIGN FEATURING SCULPTURAL SILHOUETTES AND RICH HUES WITH H&M STUDIO'S A/W23 COLLECTION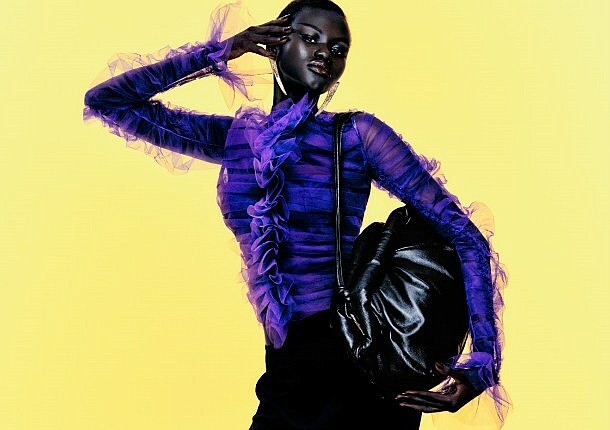 ---
H&M STUDIO CELEBRATES 10 YEARS OF DESIGN FEATURING SCULPTURAL SILHOUETTES AND RICH HUES WITH H&M STUDIO'S A/W23 COLLECTION    
NEW YORK, PRNewswire -- A new mood of dark glamour takes hold with H&M Studio's A/W23 collection. Inspired by the thrilling simplicity of classic black, silhouettes channel the stark sophistication of film noir heroines. This collection marks the 10th year of H&M Studio with daring designs that are tailored to perfection. The H&M Studio A/W23 will be available today in select stores in the U.S. and www.hm.com
"H&M Studio is our most directional, fashion-forward offering. For Autumn, our design team has created a collection that feels pragmatic, but poetic. Premium qualities are featured throughout the collection with tailoring, outerwear, and decorated denim that you'll fall in love with instantly, and wear over and over, for years to come," said Ann-Sofie Johansson, Head of Design and Creative Advisor at H&M.  
Key pieces include sharp suiting and sculpted outerwear offset with embellished wardrobe staples and polished accessories. For daytime, a tailored maxi coat with a nipped-in waist hints at feminine allure alongside a bright-white shirt punctuated with an oversized bow. For evening, the collection offers low-waisted jeans with rhinestones and a coordinating jacket, as well as a black A-line mini dress adorned with a white collar. Accessories include nappa-leather boots, statement jewelry, and a padded cushion-clutch bag, reworked from the H&M Studio archive crafted in soft black leather. The collection features durable, high-quality fabrics with the majority made from more sustainably sourced materials, including recycled polyester and Tencel.
"This season the design team was inspired by horror-movie heroines whose style always stays sophisticated, no matter how spooky the circumstances. We wanted to channel that pulled-together look with pieces that confer polish but are practical enough to transition effortlessly between situations and seasons," said Linda Wikell, Concept Designer at H&M Studio.
H&M Studio is H&M's most directional, fashion-forward offering. Launched in 2013, the biannual collections are developed in-house by a dedicated design team at the brand's Stockholm atelier. The A/W23 collection marks 10 years of H&M Studio, and a new chapter for the limited-edition collections. In a newly expanded remit, from this season H&M Studio will comprise a creative framework that encompasses multiple limited-edition collections per year, with several drops per season.
---