HUGE DAY FOR THE GOVERNMENT OF RICH TOWNSHIP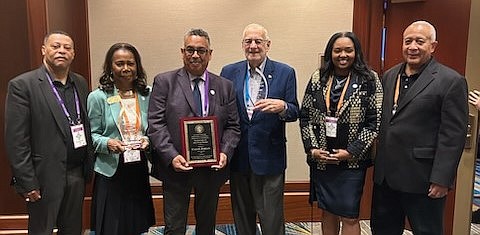 ---
HUGE DAY FOR THE GOVERNMENT OF RICH TOWNSHIP
TOWNSHIPS OF ILLINOIS ORGANIZATION PRESENTS
RICH TOWNSHIP SUPERVISOR CALVIN JORDAN WITH THE COVETED
                "2023 TOWNSHIP SUPERVISOR OF THE YEAR AWARD"
RICH TOWNSHIP ALSO GIVEN 
"THE 2023 INNOVATIVE PROGRAM OF THE YEAR AWARD"
SUPERVISOR JORDAN LAUDED FOR MANAGING THE BEST TOWNSHIP
GENERAL SERVICES, OPERATIONS, AND FOOD PANTRY IN ILLINOIS
SUPERVISOR CALVIN JORDAN ALSO BESTOWED 
"THE 2023 ELECTED OFFICIAL OF THE YEAR"
(Springfield, IL) Rich Township Supervisor Calvin Jordan is expressing his gratitude, joy, and excitement after receiving the Township of Illinois Organization's (TOI) "2023 Township Supervisor of the year Award." The Award was presented to Supervisor Jordan November 14th, during the 116th TOI Educational Conference of all Townships in Illinois.  During this same event, Supervisor Jordan was given the "The 2023 Elected Official Award" by the prestigious organization.
But it was also a huge day for the entire Rich Township government as it was
Supervisor Jordan, who was elected in April of 2021, publicly expressed his appreciation before over 1000 Township officials throughout Illinois who gathered for the event at the Crown Plaza Hotel today in Springfield, Illinois.
"Today is not about Calvin Jordan, but a day of rejoice and pure euphoria for the total Rich Township Board and staff. We have worked extremely hard for nearly three years to enhance our operations, streamline services, and expand our outreach into the region. The quality of our operations is a testament to our Board of Trustees, our constitutional officers and the men and women work extremely hard on behalf of our residents. I'm nothing without their efforts and hard work "says Supervisor Jordan.
In addition to the two honors for Supervisor Jordan, Rich Township also received the "2023 Innovative Program of the Year" award for its "Man Cave" Program. This is a program administered by Rich Township that is geared toward the gathering of men throughout the township to discuss men's health, and activities that enhances the upward mobility of men's health and nutrition.
Supervisor Jordan adds "One of the core missions of Rich Township is to always remain committed to the philosophy of providing quality and timely assistance to our residents. The most significant way in which this has been accomplished is through the power of outreach. Such is the Man Cave program. We have made it our mission to clear our offices and always remain visible and relevant within the ten towns that makes up our township"
Rich Township offers a food pantry that has been instrumental in bridging the gap between residents from all levels of society. Weekly, the pantry serves nearly seven hundred residents. For the many residents of Rich Township, the area food pantry is not just a place where those in need can come to get food, but also where residents come for a meaningful experience. After a decade of service, the food pantry operations have benefited thousands of residents and has successfully executed the township's focus of "helping hurting people."
Rich Township, like all other places of business and units of government was
significantly impacted by the Coronavirus pandemic. The Township opened its doors
during the highest levels of COVID-19, under the most difficult of circumstances, and
continued to operate and make modifications to provide essential services to every
community within the Township.
As Supervisor, Calvin Jordan has always ensured that the proper and efficient delivery of
township business was maintained. This includes development and oversight of ope
rating
and capital budgets, personnel, public information, and the development and management
of programs and special projects. His philosophy was that staff operate as a team and with the
utmost transparency.
"We are all so thrilled about this exciting news about this exciting honor for Supervisor Jordan Calvin Jordan continues to reflect what a credible and responsible public servant should reflect. He has a zest for helping hurting people, all while performing his duties in a spirit of excellence and accountability. He serves as a mentor to so many elected officials throughout Cook County. Supervisor Jordan is the example of honesty and integrity in which government and politics should reflect." says Matteson Mayor Sheila Chalmers-Currin.
Illinois State Representative Debbie Meyers-Martin adds, "I am so thrilled about this particular honor for Supervisor Jordan. He has worked extremely hard to ensure that the residents of Rich Township are fully aware of the array of services that are available. He has also educated the region about why Township government is relevant and important. Supervisor Jordan and the entire board have been firm in their quest to operate the government in a spirit of excellence.'
---