Democracy Forum brings thought leaders and changemakers together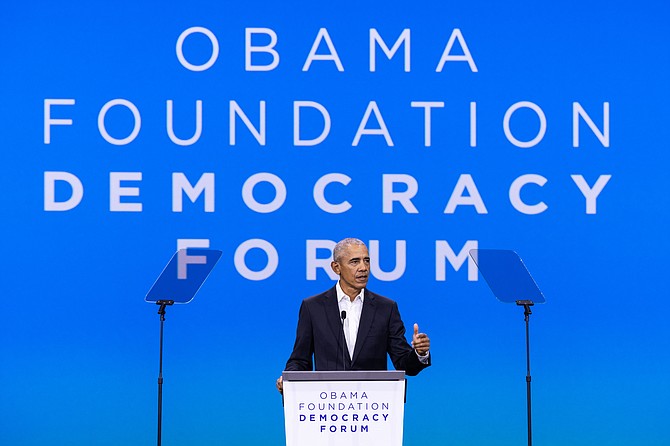 ---
Democracy Forum brings thought leaders and changemakers together
By Tia Carol Jones
When President Barack Obama took the stage at the Democracy Forum he was greeted by cheers and a standing ovation. He started off with talking about why he and First Lady Michelle Obama started the Obama Foundation after leaving the White House. He said it was because they wanted to inspire and empower young leaders whose ideas and insights would drive change for years to come.

"We now have a global network of hundreds of young leaders from practically every continent who are tackling some of the most important issues of our time, and we have never needed you more than we need you today. As we speak, the world feels more unstable and more dangerous than it has in a very long time," President Obama said.

The Obama Foundation hosted its second Democracy Forum in Chicago on Friday, Nov. 3rd, at McCormick Place. The Democracy Forum brought together business leaders, tech leaders and global changemakers. It included five sessions, with topics that ranged from AI and human progress, strengthening trust in institutions, making meaningful connections in the digital world, the future of journalism and combating misinformation, as well as fair economies and the future of work.

During a panel discussion featuring Obama Foundation CEO Valarie Jarrett, Maryland Governor Wes Moore and Co-founder and Executive Director of Protect Democracy Ian Bassin talked about why it's critical to strengthen trust in institutions.

Since Moore has been Governor of Maryland, 100 pieces of legislation have been signed into law. He said every single bill that was passed was done with bipartisan support. He said it is a continuation of the way he campaigned, everywhere in the state of Maryland, even in places that didn't vote for him.

"The way we decided to approach the work was, you've got to do the work and you've got to show up; you need to be willing to go anywhere and everywhere, you need to be willing to make your case, you need to be willing to show people the policies you're pushing forward, that they actually have an intention of benefitting everybody," Moore said adding that his approach has been to try and figure out how to depoliticize politics, how to come up with a new type of frame.

Jarrett asked how to handle misinformation in an age where social media is the preferred way of receiving information. Moore said he lives under a philosophy to not let things that are not going to have any real long-term relevance to his life bother him. He said the same vehicles that are being used to spread lies and misinformation can be used to infuse truth and spread light.

"It's up to us to be just as creative and just as thoughtful about how we're using these tools to be able to spread truth and spread our mission and to be able to bring people on board," Moore said.

Also during President Obama's speech, he told the audience that it was in their power to make the world better. He said that by seeing each other and listening to each other, he was hopeful that humanity can bridge the differences. He said a better future is most likely to happen under democratic systems of government, where everybody's dignity is recognized, where the rule of law and human rights are respected by everybody.

President Obama closed his speech by talking of how the choices made about the economy affect quality of life.

"At a time when our bonds of trust are growing weak, at a time when we are drowning in stuff and yet, people seem deeply anxious and unfulfilled, we need a new generation of heroes to strengthen our bonds of trust to create an economic system that supports and sustains those things that matter," he said.

For more information about the Obama Foundation, visit www.Obama.org.
---