Boop! Brings Betty Boop to the Stage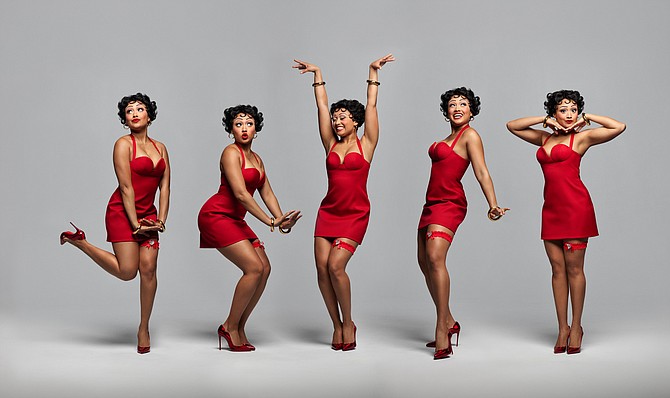 ---
 Boop! Brings Betty Boop to the Stage

By Tia Carol Jones

As Boop! The Betty Boop Musical gets set for its World Premiere in Chicago, the performers and crew have been hard at work to ensure the performances are magical.

Boop! The Betty Boop Musical will have its premiere on Sunday, Nov. 19th, at CIBC Theatre, located at 18 W. Monroe St. It will run through Sunday, Dec. 24th. Jasmine Amy Rogers plays Betty Boop, Ainsley Anthony Melham plays Dwayne, Stephen DeRosa plays Grampy, Angelica Hales plays Trisha, Erich Bergen plays Raymond and Anastacia McCleskey plays Carol.

Lou Raizin, President of Broadway in Chicago, acknowledged Tony Award®-winning director and choreographer Jerry Mitchell and Producer Bill Haber, who are responsible for bringing Boop to the stage.

"Both have found magic within these walls. They have mined the magic and they're here to do it again," Raizin said.

Mitchell is no stranger to the CIBC Theatre. His first time being there was seeing "A Chorus Line" when he was 17-years old. It left an impression on him, and he wanted to be in the show. It happened for him two years later. Now, he is the director and choreographer for Boop. Mitchell has also been back to Chicago for other shows, including "Pretty Woman," "Kinky Boots," "On Your Feet" and "Half Time."

"This Theatre and this town mean so much to me. When you put a new musical together, everybody has to kind of dig in and find it together," he said.

Mitchell said when he first saw Rogers, he knew she was going to be a star. She was in "Becoming Nancy," and he said she was incredible in it.

During a press conference on Tuesday, Nov. 7th, Rogers and the cast gave the audience a sneak preview of the performances. Rogers performed "Where I Want to Be," with the cast. She also performed another song with Grammy Award-winning Composer David Foster. Foster has never done a musical before. He said he put himself in the hands of Mitchell.

"I go to musicals because I want to walk out singing the songs. The first time I heard the songs, Bill Haber sent me the songs, I knew this was going to be a great musical and I knew that I could help get it there. I was so moved by the music, not only did it move me, but it made me want to dance," Mitchell said.

Rogers had the opportunity to do a reading of Boop playing a different role. She fell in love with the show at that reading, she also fell in love with Betty Boop. She called portraying the role in the musical an opportunity of a lifetime.

Rogers said it has been incredible working with David Foster. She said that he is dedicated to his craft; he knows what he wants, he knows how to get what he wants. The first time Rogers set foot in a recording studio, it was with Foster.

"He looks at music in a way that I really love. I also look at music in a similar way, where we want to get the best out of it that we can. It's been a dream come true to get to work on anything with him," she said.

Rogers favorite song from the musical is "I Speak Fluent Jazz," which is performed by Ainsley Anthony Melham who plays Betty's love interest Dwayne. She loves listening to Melham sing it, she loves the feel of the song.

Rogers hopes people who come to the show leave feeling refreshed, joyful and with hope in humanity and in themselves. She hopes that women leave feeling inspired and reminded of the capabilities they have.

"I hope they leave feeling loved and feeling ready to love each other, the world and themselves, most importantly," she said.

Tickets cost $28-$106. To purchase, visit www.BroadwayInChicago.com.
---