The Support Group Holds Annual "Lunch with a Leader" Event Connecting Aspiring Students with Chicago Business and Community Leaders
Event Provided Opportunity for Hundreds of High School Students to Network with and Learn From Leaders Across Chicagoland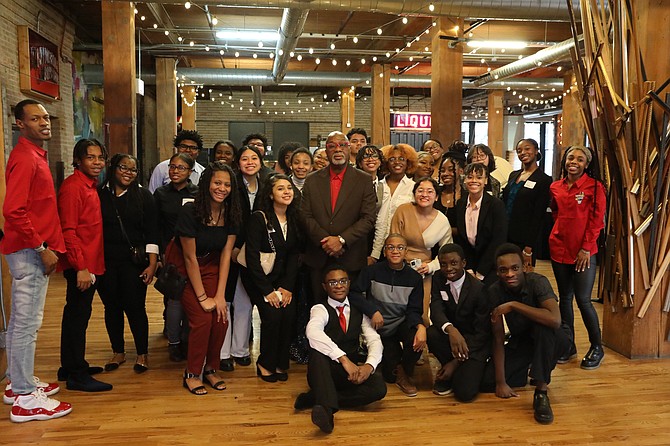 ---
The Support Group Holds Annual "Lunch with a Leader" Event Connecting Aspiring Students with Chicago Business and Community Leaders
Event Provided Opportunity for Hundreds of High School Students to Network with and Learn From Leaders Across Chicagoland
The Support Group, a Chicago-based nonprofit co-founded by NBA legend Tim Hardaway to create opportunities for young men and women from underserved communities in Chicago, hosted its annual "Lunch with a Leader" on Monday, Feb. 27, for nearly 300 CPS high school students. The students gathered on the city's Southwest Side to network with and learn from notable business, entrepreneurial and community leaders from across Chicagoland.
During interactive sessions, students heard from leaders in government, journalism, financial services, real estate, nonprofits, hospitality, construction and more. Leaders discussed how education helped them reach their goals, as well as other critical keys to their success.
"The Support Group has hosted Lunch with a Leader for over a decade, helping young people make inspirational connections that open doors to new opportunities," said Bennie Henry, Founder and Executive Director of The Support Group. "We're grateful to the leaders who take the time to share their experiences and wisdom, which will propel these young women and men to their own leadership journeys."
This year's lunch brought together nearly 300 students and 30 leaders from 20 organizations. Students were divided into tables of 10, each with a leader whose background matched the students' interests. Throughout the lunch, students had the opportunity to ask their leaders questions about the skills and experience required to succeed in their career path.
The Support Group was originally founded by Henry and Hardaway as a way to work with local high school basketball athletes with NBA potential. Notable athletes to come through the program include Juwan Howard, Michael Finley, Antonie Walker and Shawn Marion. Now, The Support Group has expanded to serve thousands of students throughout Chicagoland, offering programs that touch on a variety of subjects and career paths.
To learn more about The Support Group and its programs, visit: https://thesupportgroup.org/
Founded in 1989, the mission of The Support Group is to create an overall balance that will afford unlimited opportunities for young people throughout Chicagoland to excel and succeed. This is accomplished through educational programs, team building activities, athletic conditioning, enhancing critical thinking and character building. The Support Group offers programs with a variety of curriculum all year round to meet the needs and interests of all the students they serve.
---