State Treasurer Mike Frerichs Returns Purple Heart To Family of Army Specialist Kenneth R. Wiest of Downstate O'Fallon
Operation Purple Heart Reunites Military Honors for Vietnam, Desert Storm Veteran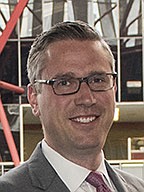 ---
State Treasurer Mike Frerichs Returns Purple Heart To Family of Army Specialist Kenneth R. Wiest of Downstate O'Fallon
Operation Purple Heart Reunites Military Honors for Vietnam, Desert Storm Veteran
SPRINGFIELD - The Purple Heart awarded to Army Specialist Kenneth R. Wiest was returned to his family as part of Operation Purple Heart, an unprecedented mission to return 11 Purple Heart medals to their rightful owners, Illinois State Treasurer Michael Frerichs announced.
Wiest earned the medal while serving in Vietnam. He also served in Desert Storm, sometimes called the Gulf War. Mr. Wiest died in O'Fallon, Illinois, on Sept. 4, 1998, at age 48. Like many combat veterans, Mr. Wiest rarely spoke about his service and the injuries he suffered taking fire while inside a helicopter.
"Army Specialist Wiest served his country, and it is our duty to honor this soldier no matter how many years have passed," Frerichs said during a somber ceremony in Springfield with Mr. Wiest's children.
"Dad was a good soldier, a loyal friend and dedicated father," said Andrea Wiest Schone, the youngest of four siblings who initiated the process that led to the return of the Purple Heart and two Gulf War service medals. "My brother and sisters are grateful to have these medals that honor his legacy."
Mr. Wiest was born on July 28, 1950, in Kelly Township, Pa. He moved to O'Fallon with his family when he was young. He was an Eagle Scout and a graduate of Mascoutah High School class of 1968. He entered the Army and went to Vietnam. When not deployed, he was employed as a logistics/computer program analyst for the United States Department of Defense. Mr. Wiest attended St. Clare of Assisi Catholic Church in O'Fallon, was a member of the Army Aviation Association of America and ran the Idle Hour Pool League for eight years. He was an avid animal lover who requested memorials to be made to the Humane Society.
The Purple Heart and Gulf War medals were among items in a forgotten safe deposit box submitted to the state treasurer's office in 2019.
Safeguarding unclaimed property until it can be returned to its owners or heirs – no matter how long it takes - is a core function of the treasurer's office. Other examples of unclaimed property include forgotten bank accounts, unpaid life insurance benefits and uncashed rebate checks.
Military medals are among the most difficult items to return because neither the Armed Forces nor the federal government maintain a comprehensive list of awardees.
Nevertheless, Frerichs' office has an unparalleled record of returning military medals. With today's announcement, Frerichs' office has reunited eight Purple Heart and other military medals to soldiers or their survivors, more than any other administration in Illinois' history.
"These medals personify honor, sacrifice, and duty," Frerichs said. "I am grateful we returned this Purple Heart to the Wiest family, and we continue to seek the assistance of Illinois residents to help us return these medals to the loving care of their families."
Frerichs launched operation Purple Heart in November 2021. It sought the public's help to return 11 Purple Heart medals that had been especially difficult to return, including that of Mr. Wiest.
Each of the Purple Heart medals was inside a bank safe deposit box. Each bank determined the safe deposit box as abandoned because the owner(s) of the box had not touched it in several years. As a result, the contents of each safe deposit box were turned over to the Illinois State Treasurer's Office.
 In most of these cases, the conflict in which the Purple Heart was awarded, such as World War I, World War II, Korea, Vietnam, or Desert Storm, is unclear or unknown.
---