RICH TOWNSHIP NOW PREPARING FOR INCREASED FOOD PANTRY TRAFFIC FOLLOWING REPORT OF 1.9 MILLION RESIDENTS CUTS FROM FOOD ASSISTANCE PROGRAMS IN ILLINOIS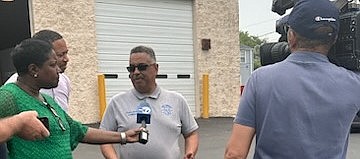 ---
RICH TOWNSHIP NOW PREPARING FOR INCREASED FOOD PANTRY TRAFFIC FOLLOWING REPORT OF 1.9 MILLION RESIDENTS CUTS FROM FOOD ASSISTANCE PROGRAMS IN ILLINOIS
SOUTHLAND ELECTED OFFICIALS JOIN SUPERVISOR CALVIN JORDAN in OUTLINING THE CHALLENGES OF GROWTH AND NEEDS FOR TOWNSHIP PANTRIES THROUGHOUT ILLINOIS
"ALL WALKS OF LIFE ARE EXPERIENCING TOUGH TIMES, HOWEVER THESE CUTS WILL MAKE IT EVEN MORE DIFFICULT FOR ALL"
(Olympia Fields, IL)
Rich Township Supervisor Calvin Jordan recently led a mass group of elected officials, civic leaders, clergy persons, and business leaders in distributing food to thousands of residents at the Rich Township Food Pantry. The mass group publicly addressed the recent disturbing reports of cuts in the federal food assistance program that will slash 1.9 million Illinois residents who are facing tough economic times.
The Rich Township Food Pantry has experienced an increase in residents seeking food and other valuable quality of living products over the past 15 months. Moreover, there is now a more diverse mix of Rich Township residents who are all experiencing many challenges during this tough period of rising inflation. The recent cut of the Pandemic Emergency Food Benefit program has left 1.9 million Illinois residents without the necessary assistance to purchase food for their respective families.
"Our job has been to distribute food regardless of ethnicity, gender, or class. However, we also listen to some of the hardships that have negatively impacted our families. We can ill afford to tell any resident of our township that we do not have food to assist them in these tough times. That is what makes the engagement of government leaders imperative to the growth of the pantry." says Supervisor Jordan.
Illinois State Representative Debbie Meyers-Martin adds, "It is unfortunate that in 2023 people still have a basic need for food to feed their families. I encourage our business leaders to join me in a serious public discussion on increased funding to all government run food pantries. The operation in which Supervisor Jordan governs is wonderful, but the need for food is endless."
Rich Township distributes food twice per week to thousands of residents who drive their vehicles to the Township parking lot. Township staff and volunteers distribute boxes of much needed food items to every car.
"When Supervisor Jordan called upon my wife and I to donate funds, we immediately responded. The challenging work that the Township performs to satisfy the critical needs of so many families is amazing. As a business leader, I have a moral obligation to get involved. Supervisor Jordan knows that our company will always respond to this initiative. But we have a civic duty to ensure that every government run food pantry is supported" says Business Owner Cliff Taylor of InsureSource LLC.
---