HOME DÉCOR STORE BRINGS VIBE TO HYDE PARK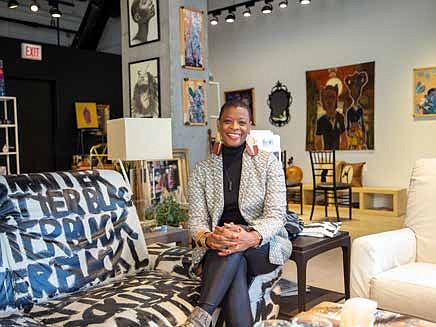 ---
HOME DÉCOR STORE BRINGS VIBE TO HYDE PARK
 
BY TIA CAROL JONES

Shari always wanted a space with a shop of her own. She started planning events and fell in love with it. When she bought her house, she started to shop for items to decorate. She had a concept of what she wanted, but couldn't find it in stores. It led her to create a space where people would feel at home, while they were shopping for home décor and art.

She learned how the home décor business works from a mentor who owns a vintage store. She started doing pop-ups, with a twist. She enlisted artist friends who she had collaborated with for different events.

"I always felt like I wanted to have two different locations at the same time. One was on the North side, where my mom grew up, because that was a huge part of my life, and one on the South side, because that' s where I grew up," she said.

Currie opened the lakeview location on the North side. For the South side location, she wanted to be strategic. She knew she wanted to bring a location to Hyde Park. She found the space in Harpers Court and opened it in November of 2022. It is her goal with Recycled Modern to build a bridge of representation across the city.

Inside Recycled Modern, work from primarily Black artists are represented, a diverse group of makers and collaborators. Those pieces weave the fabric of Chicago. "It's becoming this space where people come in and they want to have cool events, centered around artists and artistry, of the different makers that come from Chicago or come from the Midwest. 

You can shop for home décor and you can feel at home, everything that' s in there is either handmade or locally sourced or collaborated with a local artist," she said.

Currie participated in programs to help grow her business. The journey for her is still happening. The most recent event at Recycled Modern in Hyde Park was for Memoirs, a local fragrance company created by Terrance Pratt. The events, which are experiential in nature, are a way to highlight the makers story of entrepreneurship.

The Lakeview location will be open for private events in late February. Currie started off showcasing the pieces of artists who were close to her, had a connection with and worked with her previously . She has expanded to include artists from "Growing from there means, I see something someone would refer, and I have to hear their story and connect to their work, so I can represent them well in the shop. I just hear their story and want to see everybody win and we'll do an art exhibit, we'll see how it works or we'll adjust," she said. Currie has been overwhelmed by the love she has received since opening the Hyde Park location. People love the events and are excited about the curated events and collaborations.

For more information about Recycled Modern, visit
recycledmod.com.
---