DRUM MAJOR FOR JUSTICE 2023 MLK COHORT OPENS REGISTRATION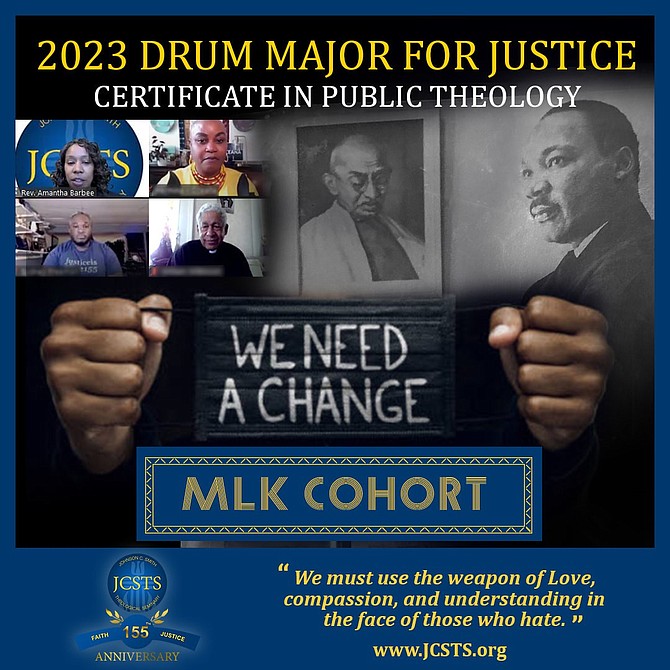 ---
DRUM MAJOR FOR JUSTICE 2023 MLK COHORT OPENS REGISTRATION
Johnson C. Smith Theological Seminary opens registration for the MLK Cohort of the Drum Major for Justice Certificate Program in public theology open to faith, civic and justice leaders.
Johnson C. Smith Theological Seminary (JCSTS) opens registration for its 2023 signature Drum Major for Justice Certificate Program. Applicants may visit the seminary's website, jcsts.org, for more information and to register to become Learning Partners in the program.
Drum Major for Justice is a five-month certificate program in public theology equipping pastors, civic and community leaders, and activists to find their voice in collaboration and organized action with others. The program explores the common roots of racial oppression and resistance movements (e.g., the Black Church, Black and Womanist Theology, Liberation Theology, Indigenous Peoples' Theology), in order to mobilize communities to pursue racial justice and societal transformation.
"Dr. King used the role of drum major as a metaphor many times in his oratory," says Paul Roberts, President of JCSTS. "In his 1968 "Drum Major Instinct" sermon, he encourages listeners to do justice not for the sake of public prominence but as public acts of service and faith. This certificate program picks up on Dr. King's themes in these times and circumstances."
JCSTS will host two cohorts in 2023 led by Rev. Dr. Amantha Barbee, Cohort Facilitator. The first cohort, known as the MLK Cohort, starts on January 13, 2023, and has a registration deadline of December 23, 2022. The second cohort, known as the Juneteenth Cohort, starts June 16, 2023. Registration window will open in the spring. Each cohort is limited to 12. The cost of the program is $1,550.00.
"Our Learning Partners bring amazing and rich life experiences," says Rev. Barbee. "The curriculum guidance coupled with challenging and empowering discussions are designed to refine and build community leadership skills. I continue to be amazed with our Learning Partners."
JCSTS Drum Major for Justice Alumni are equally passionate about the growth and tools of this virtual experience with their Learning Partners:
"The Drum Major for Justice Cohort was very intense and provided me with the necessary spiritual tools to deepen my relationship with and witness for God, says Hermina Glass-Hill, 2022 MLK Cohort graduate. "What I know is we [Presbyterians] will stand against, speak against, and work against racism whenever it is expressed in the world around us, in our homes, in our workplaces, in our neighborhoods, and in the church."
"Everyone is not always onboard in the justice journey," says Sydney Freeman Jr. ""We studied ways to work with allies in common struggle and discussed strategies to persist against inevitable resistance."
---