Outdoor gardening program helps children with Autism and Down Syndrome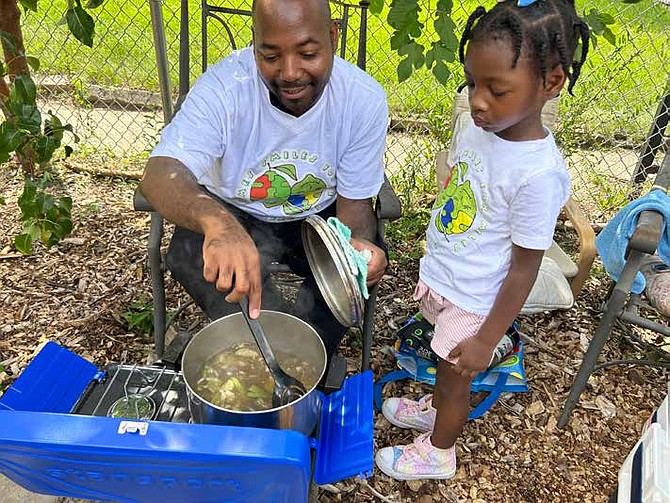 ---
Outdoor gardening program helps children with Autism and Down Syndrome

By Tia Carol Jones

A nonprofit on the West side is providing a space for children with Autism and Down Syndrome to be able to play and participate in activities. Limes Smiles for Miles is a daycare center with an outdoor gardening program for children, ages 3 to 5 years old, with Autism and Down Syndrome.
Nicole Hunter, Founder of Limes Smiles For Miles, worked as a preschool teacher for 20 years before branching out and starting a nanny service, which she did for five years. Then, she moved into the nonprofit world and started Limes Smiles for Miles in 2022. Hunter wanted to start Limes Smiles for Miles because of her work in early childhood education, she noticed that Austin, West Garfield Park, East Garfield Park and North Lawndale did not have a daycare center for children with Autism and Down Syndrome.

"It's important to have a space for them because we need early intervention. Having their own space and their own program would help their families be able to eventually be confident to step out and have an outlet for their kids," Hunter said.

Limes Smiles for Miles works on nurturing the children in the program through nutrition and development. The program is tailored toward the children. They are learning through play, learning to water plants, how to cultivate the items in the garden and learning social skills. There is also  a parent support group where the parents are able to interact with each other.

"The children are learning about nature. They love the water table, they love the sandbox, they love the art area. We have story time. They have literacy, science, math and nutrition, all of those good things," Hunter said.

This is the first year for Limes Smiles for Miles and it is a pilot program. Hunter has been communicating with the families to see how the children in the program have been developing – neurologically and physically. For most of the families who participate in the program, this is the only outlet for their children. Parents have said their children are more physical, exploring more and happier. The parents have also said the children are different when they enter the garden, they are more active. Hunter credits that to the children having autonomy and freedom while they are participating in the program. "This program will grow and it will totally help the families that are enrolled," Hunter said.

Currently, there are 11 families who are enrolled in the program which takes place on Saturdays. Hunter said the ultimate goal is to acquire two more city lots, with a building next to it for office space. Because it is an outdoor gardening program with a focus on low-income families, more space is essential. Hunter wants to see the program become a full day outdoor program for those children, 3 to 5, who have Autism and Down Syndrome. Hunter wants to encourage people to volunteer, donate and share the word about Limes Smiles for Miles.

For more information about Limes Smiles for Miles, visit limessmilesformiles.com. You can also follow Limes Smiles For Miles on Facebook and Instagram.
---