Young people talk about giving back to their communities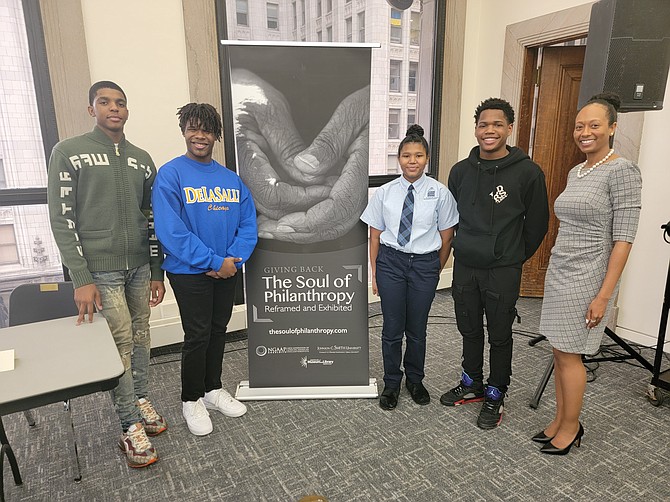 ---
Young people talk about giving back to their communities

By Tia Carol Jones

Eighth grader Randi Thomas is really passionate about police reform. Thomas, who is a student at Village Leadership Academy, worked on a project that looked at police brutality and how it affects each country. She presented her project to other students at the school and from there will meet with people from the Chicago Torture Justice Center.

Thomas, along with Joshua Dorden, a freshman at De La Salle Institute; Jevon Hobbs, a student at Whitney Young Magnet High School; and Jahkil Jackson, founder of Project I Am, participated in a youth panel as part of Giving Back: The Soul of Philanthropy Reframed and Exhibited." Alleson Knox, Interim Director of Youth Development at Thrive Chicago, served as the moderator.

"It all starts with a spark of an idea to solve a societal problem," Jessyca Dudley, Chair of The Soul of Philanthropy Chicago, said in a release. "Today's youth are empowered to make decisions on projects of importance to them and to secure funding to support the programs and initiatives. The brilliance of our young people is showcased through triumphant efforts."

The event, which took place on Friday, March 24th, at the Chicago Cultural Center, was sponsored by Lake Institute on Faith and Giving and the Center for the Church and Black Experience. The exhibit will be on display through April 30th.

"Giving Back: The Soul of Philanthropy Reframed and Exhibited," showcases African Americans being philanthropic and was inspired by "Giving Back: A Tribute to Generations of African-American Philanthropists" by Valaida Fullwood and photographer Charles Thomas Jr.

Jahkil Jackson, Founder of Project I Am, was motivated to get involved in philanthropy after becoming aware of the unhoused population. Since then, Jackson has raised more than $400,000 for the homeless. Jackson, along with volunteers, has distributed more than 100,000 Blessing Bags.

Jackson talked about how Project I Am had to pivot during COVID-19, as their organization needs donations to continue its work. "I love working with young people, getting them involved in their communities," Jackson said. "We're going to be the leaders of the world."

Dorden taught math when he went to visit Ghana in 2022. One thing that stood out to him was the class structure, which was based on age range and not grade.

Hobbs' project when he was a student at Village Leadership Academy was focused on redlining. Now as a high school student, he continues to create awareness on the effects of redlining in Black communities.

"Change doesn't happen overnight and sometimes it does take a lot of time to mobilize change," Knox said, and asked the students about the challenges they have encountered in doing advocacy work as young people.

Thomas wants people to be more informed about police reform, and long term she wants to see a change in the way police interact with the community. Thomas sees a lot of potential for young people to do work in the advocacy space. She believes if they start young, they can make a positive impact and continue to do the work throughout their life. It will make the world better.

For more information about Souls of Philanthropy, visit tsopchicago.com.
---