PROJECT HOPE CONTINUES TO HELP PREGNANT AND PARENTING TEENS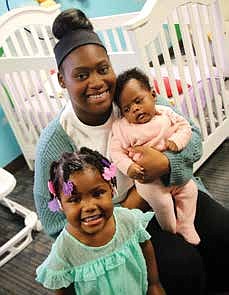 ---
 PROJECT HOPE CONTINUES TO HELP PREGNANT AND PARENTING TEENS

BY TIA CAROL JONES
The Marillac St. Vincent Family Services' Project Hope is celebrating its 40th Anniversary. The signature program provides pregnant teenage girls and young women, ages 12-25, with the necessary resources for them to be healthy during pregnancy and become better parents once they give birth.

Project Hope began with Maureen Hallagan and her mother, Kay, as a three year pilot program. Hallagan and her mother wanted to create a program for pregnant and parenting teens because at the time, there were very few programs that existed for that group. They started out with pregnant and parenting teens in the Rockwell Gardens Housing Project.
Eventually, Project Hope was moved to Marillac's Jackson Street location.

In the beginning, Project Hope received funding from the Community Trust to do the pilot program. Then, the Ounce of Prevention Fund awarded money to the program.

Project Hope was one of the first programs to bring in doulas for pregnant
teens and young women. Laronda Castine, the Director of Project Hope, believes the addition of doulas to the program more than 20 years ago was a positive one. The doulas go through a six-month community
training program.

Castine said there is a major appreciation for the doula program.

"One of the major outcomes we've had with that is the increase in breastfeeding rates. We've been having 100% breastfeeding initiation rates in the program and that's been really helpful," Castine said.

Project Hope also has a home visiting component where family educators assist the teens, who are allowed to stay in the program until they turn 25.

With Project Hope, there has been a 78% normal birth rate for babies and no maternal deaths.

"Marillac has been a positive influence in the community. Generation after
generation have been able to benefit from the programs here at Marillac," Castine said.

Project Hope works mainly in the East Garfield Park area, and sometimes
it reaches out to the North Lawndale and the Austin area. Project Hope services an average of 45 pregnant teens and mothers each year.

During the COVID-19 pandemic with shutdowns and quarantines, Project
Hope was able to facilitate its programs virtually. The staff had to transition to virtual services. At that time, the number of pregnant teens and mothers went down slightly.

In the next 5 to 10 years, Castine sees Project Hope continuing to provide services for pregnant teenagers, with doulas preparing them for delivery, and family educators teaching the teenage mothers the importance of vaccinations and helping them to obtain skills to be self-sufficient.

Project Hope is looking to help the mother transition, as society changes with technology, with access to new learning so those mothers can
support their children for success in school.

"As a community, as a whole, we assist the mothers in obtaining skills to help them be successful, providing financial literacy, helping connect them to community resources, helping them provide the care and nurturing to their children so they can grow up and be productive citizens as they grow older," Castine said.

For more information about Project Hope, visit marillacstvincent.
org.
---