ACCESSORIES DESIGNER WENT FROM FINANCE TO FASHION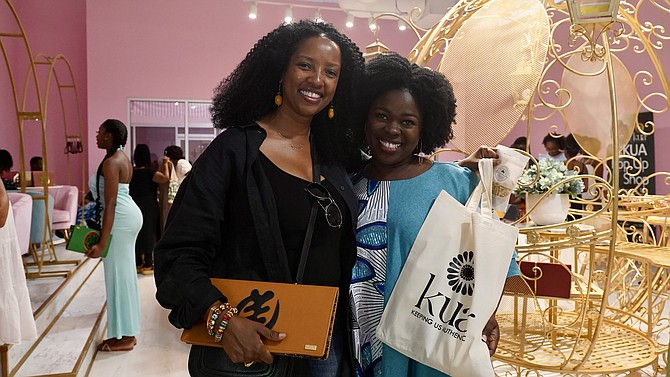 ---
 ACCESSORIES DESIGNER WENT FROM FINANCE TO FASHION 

By Tia Carol Jones 

Ruby  Buah created KUA Designs after talking a jewelry making class. Her handbag collection was recently featured at Nordstrom as part of its Buy Black Pop-Up. PHOTO PROVIDED BY MYWHY AGENCY. Ruby Buah started KUA Designs by accident. She didn't go in wanting to start an accessories business. She was a financial analyst and started taking jewelry making classes. She was hooked and blown away.

Now KUA Designs boasts celebrity clients and she is giving back to her
homeland in Ghana by employing visually impaired women to make her bracelets.

Buah went to a bead store after taking the jewelry making class and started making her own jewelry. People would buy the jewelry from her while she was wearing it. She thought it could be a business but dismissed that idea. But, after she was done with her 9-5, she would set up a booth at vendor's fairs.

Each year, Buah was making more money selling her jewelry at fairs and having boutiques carry her goods. She decided to enroll in Fashion Institute of Technologyin New York City to perfect her skills. She left the corporate world in 2009 and moved to New York City from Atlanta.

During her time in fashion school, she would do pop-up events. She added her handbag line, which incorporated African prints in the designs. KUA Designs' accessories range from $85-$180.

"I immediately gravitated towards natural stones, things from nature, I started really appreciating those things. If you see any of the leaves, those are real leaves, if you see any of the stones, those are real stones. That is what spoke to me in terms of my jewelry collection," Buah said, adding that she sources her stones from different countries around the world.

Buah's jewelry collection also includes string bracelets that are made from recycled glass and sand, and made by women in Ghana who are visually impaired. The colorful bracelets are made using a technique that dates back ages.

Selling the bracelets is Buah's way of giving back. She saw the need
to bring her production to the people of Ghana as a way to "let her light
shine" and that it would go a long way. Purchasing a bracelet has the potential of positively impacting and changing the lives of the women who make them, and the lives of their families. Everywhere Buah looks in Ghana provides inspiration for her jewelry and handbags.

The first time a celebrity purchased one of her accessories, there
was a bit of validation, because someone who has access to everything has decided they appreciated her products. It also shows that people respect the hard work of small business owners. It makes Buah smile when her clients tag her in posts of celebrities wearing her accessories.

Buah just finished a five-city pop-up tour. It is her way of interacting with her clients. During the five city tour she visited Los Angeles, NYC, Atlanta, Miami and DC. In August, Buah participated in Nordstrom's Buy Black Pop-Up. The goal is to try and get KUA in every state in the U.S.

For more information about KUA Designs, visit www.
kuadesigns.com.
---