MCA Chicago triumphs with sold-out Chicago Performs showcase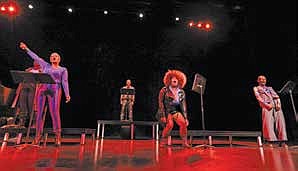 ---
MCA Chicago triumphs with sold-out Chicago Performs showcase

The Museum of Contemporary Art (MCA) Chicago is thrilled to champion the immense success of its Chicago Performs festival
debut. The program, which highlights Chicago-based artists whose
work is embraced nationwide, opened this past weekend to sold-out
shows. Guests included arts professionals from around the country,
including New York City, Milwaukee, Austin, Maine, and Pittsburgh.

The two-day festival featured three artists: Derek Lee McPhatter,
a theater-maker committed to emphasizing narratives at the intersection of race, class, gender, sexuality, and technology; Erin Kilmurray, a genre-straddling choreographer drawing on the space-making possibilities of nightlife culture, theater, and dance through electric, often political performance; and Bimbola Akinbola, an artist and scholar concerned with the nature of belonging and queerness,
using theory, performance, and visual art to organize, remember, and
repair. Each artist's work underscored the shared creativity between artists, audiences, and community networks to foster shared goals and a sense of belonging.

MCA plans to continue this celebratory project in the Fall
of 2023 with a new set of artists who will each work with MCA's
curatorial and production staff over the coming year towards the presentation of their performances. Each artist developing work through this series is entering a new phase of their practice—whether stepping onto a larger stage for the first time, exploring new directions, or expanding the scale of their projects. Chicago Performs will continue feature work supported by the Chicago Performance Commission as a part of MCA's New Works Initiative. The program fosters the artistic and professional growth of Chicago artists, providing consistent and comprehensive support for these local artists' development. It also connects their work with the national and international performance scene. For Fall 2023, the commission will be given to Chicago's own expanded cinema artist shawneì michaelain holloway.

In the Spring of 2023, MCA will host a performance series, titled FRICTIONS, that explores movement as a way to navigate Blackness. The program will include artists Will Rawls (Brooklyn-based), Shamel Pitts/TRIBE (Brooklyn- based), and Barak Adé Soleil (formerly of Chicago, now based in
London).

Chicago Performs was organized by Tara Aisha Willis, Curator,
Performance, and Laura Paige Kyber, Curatorial Assistant in Performance. Joy as a Question was organized by Willis and Daniel Atkinson, Manager of Learning, Adult Interpretive Programs.

Lead support for the 2021–22 season of MCA Performance is
provided by Elizabeth A. Liebman.

Major support is provided by the Alphawood Foundation and by
Julie and Larry Bernstein.

Generous support is provided by Lois and Steve Eisen and The
Eisen Family Foundation; Ginger Farley and Bob Shapiro, Martha
Struthers Farley and Donald C. Farley, Jr. Family Foundation; N.A.,
Trustee; Susan Manning and Doug Doetsch; D. Elizabeth Price and
Lou Yecies; and Carol Prins and John Hart/The Jessica Fund.
---