City Colleges of Chicago Celebrates with its Largest Class of Star Scholars to Date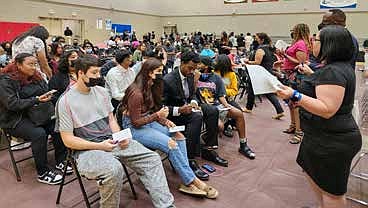 ---
City Colleges of Chicago Celebrates with its Largest Class of Star Scholars to Date

CHICAGO — City Colleges of Chicago (CCC) announces this fall's Star Scholarship (2022) cohort is the largest ever enrolled at CCC with 1,597 new students across all seven colleges: Harold Washington, Harry S Truman, Malcolm X, Kennedy-King, Olive-Harvey, Richard J. Daley, and Wilbur Wright.

"Access and inclusion are part of City Colleges' mission and the Star Scholarship eliminates cost as a barrier and supports our students
as they fulfill their education goals and help create a more
inclusive economy," said City Colleges of Chicago Chancellor Juan Salgado.

The Star Scholarship program was launched in 2015, and to date, approximately more than 14,000 Chicago high school graduates
have been named Star Scholars.

"When it came time to apply for college, I was so nervous about how I was going to pay for school. Then, my counselor told me
about City Colleges' Star Scholarship, and a weight was lifted off my—and my entire family's—shoulders," said Star Scholarship
alumna Florencia Laino. "Beyond the free tuition and books, the support and advising I received from the program was exceptional,
making the pathway towards earning my Bachelor's degree feel easier to achieve."

Students qualify for the Star Scholarship if they graduate from high school with at least a 3.0 GPA and the Star Scholarship covers
up to three years at City Colleges. The Star Scholarship is open to any CPS student from all over Chicago and partner Big Shoulders
Fund schools.

"We created the Star Scholarship because we understood that college wasn't accessible to everyone and we wanted to ensure
that hard working students realize their full potential," said City Colleges of Chicago Chief Academic Officer and Provost Mark Potter. "We are thrilled to be of service to our new Star Scholars and we hope this scholarship continues to inspire others to achieve."

About 56 percent of our Star Scholars (as of Aug 2022) who
complete their associate degree will transfer to a four-year institution
to work toward their Bachelor's degree program. CCC's top transfer
four-year institutions include: University of Illinois Chicago (UIC), Northeastern Illinois University (NEIU), DePaul University,
University of Illinois at Urbana (U of I) and National Louis University (NLU). To learn more, visit www.ccc.edu/starscholarship.

STAR Scholarship recipients have the opportunity to begin working with 4-year universities while still at City Colleges and can take advantage of guaranteed admissions from City Colleges to a variety of colleges and universities across the country. In addition, City Colleges of Chicago participates in the Illinois Articulation Initiative, a comprehensive statewide effort among more than 100 colleges and universities in Illinois to facilitate the transfer of any CCC student to a 4-year college or university. For more information, visit www.ccc.edu/starscholarship.
---