Soles4Souls partners with Communities in Schools to provide warm weather items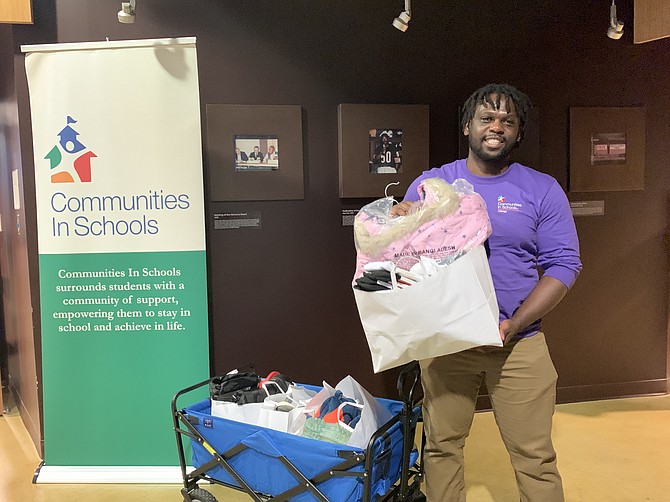 ---
 Soles4Souls partners with Communities in Schools to provide warm weather items
 
By Tia Carol Jones

On the fourth floor of the Lawndale Christian Health Center, located 3750 N. Ogden, West side residents were treated to a personal shopping event. Racks of coats, labeled by size, shoes along the wall were categorized by size and whether it was adult or children, and backpacks and tote bags were stacked on tables, along with boxes of masks.

The personal shopping event, which took place on Wednesday, Nov. 16th, was a partnership between Communities in Schools, Soles4Souls, Macy's and the Lawndale Christian Health Center. At the end of their personal shopping experience, people needed help departing with their items, some used large blue pull away carts. People were also able to access resources from the YWCA and Lawndale Christian Health Center.

Soles4Souls began in 2006, with a mission to make a positive difference in people's lives with their programs – 4Opportunity, 4Relief and 4EveryKid.
Communities in Schools was founded in the 1970s in New York City. The aim of the organization is to bring community resources to public schools.

 In Chicago, Communities in Schools partners with more than 200 community organizations and 200 schools to ensure the partner schools have access to no cost services, resources and programs, delivered by the community partners.

"We're trying to meet the needs of families, remove those barriers, so that students can be successful," said Robin Koelsch, senior director of partnerships at Communities in Schools of Chicago. This was the 10th year for the partnership between Macy's and Soles4Souls. Since 2013, more than 300,000 people have received new coats nationwide. Through Macy's "Buy a Coat and We'll Donate One," 10,000 brand new coats were donated to Soles4Souls.

According to Communities in Schools of Chicago, there were between 30-40 families who attended and approximately 700 items -- inclusive of coats, socks, shoes, backpacks with supplies -- given away to the families. This was the first year Communities in Schools of Chicago partnered with Soles4Souls.

Koelsch said the partnership happened because Soles4Souls was looking to expand into the Chicago area. Soles4Soles worked with Macy's to donate the coats and socks, and Communities in Schools of Chicago worked with their community partners, North Lawndale Christian Health Center, to provide the space for the event.

"The idea is that this event is supposed to be more like an actual shopping experience, not just like here's a bag of stuff, good luck to you. More of a curated shopping experience," Koelsch said, adding that because Communities in Schools of Chicago works with a lot of the schools in the area, the organization was able to provide the students with the vouchers to get the coats.

If families could not find a size they needed during the event, they were asked to provide their contact information for Communities in Schools of Chicago to follow up with them. The goal is to ensure students had what they need, whether it was a program, a service or basic needs.

For more information about Soles4Souls, visit soles4souls.org. For more information about Communities in Schools, visit www.communitiesinschools.org.
---