The Fairmined Gold Flora Collection, by Christina Malle, Brings Attention to Transparency in Artisanal Mining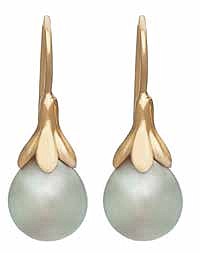 ---
 The Fairmined Gold Flora Collection, by Christina Malle, Brings Attention to Transparency in Artisanal Mining

New York, NY. This year, Fairmined Official, an initiative powered by the Alliance for Responsible Mining (ARM) developed the Fairmined 100
Challenge. By encouraging the development of 100 jewelry collections using Fairmined certified metals, a call for positive impact from the trade was made. Empowering artisanal miners who source responsibly,
the Fairmined assurance label is given when there is a guarantee of fair prices, an investment in social development and environmental protection,
and legitimate government cooperation. Former human rights attorney, goldsmith and gemologist Christina Malle designs collections with traceability at the forefront. Always questioning the materials,
she is an industry leader who examines how to continue improving the supply chain and provide accountability. The Flora Collection is her Fairmined Challenge collection. Its aesthetic is drawn from
images of the flora surrounding the Fairmined mines in Colombia and Peru.

There are eleven elegant pieces in the newly
launched Flora Collection. Elegantly set entirely
in 18K Fairmined gold, the Longflower necklace,
Leaf earrings, Leaf pendant and Leaf ring are classic
styles, perfect for every day. The Amethyst Leaf
earrings and Emerald Leaf bracelet are both set
with previously mined Brazilian gemstones, reminiscent
of the South American mining roots of the
gold. Malle has also included two pearl pieces in
the collection. The first is the Gold Berry Leaf Sea
of Cortez Pearls earrings. An environmental success
story, Sea of Cortez pearls are incredibly rare, with
exceptional colors, traceable to the Mexican source.

The Sea of Cortez was so heavily polluted, it barely
sustained oysters, but now that the water has
become cleaner, oysters are thriving and help keep
the water clean, while producing stunning pearls.
Malle also designed the Berry Leaf necklace as
part of Flora, featuring a single Tahitian South Sea
Pearl on a Fairmined 18K gold chain.
"Fairmined miners mitigate their environmental
impact, which is another rare and welcome
assurance among gold miners; it is reassuring to
know that the miners protect the flora of their
regions," says Christina Malle. "This is atypical
of gold miners around the world, and an important
part of the Fairmined compact."

As a Board Member of Ethical Metalsmiths
and the Women's Jewelry Association NY Metro
Chapter, and part of Pure Earth's Jewelry Industry
Action Committee, Malle brainstorms initiatives
to further raise awareness among colleagues and
consumers. Her Flora Collection honors the legacy
and positive impact of responsible artisanal mining,
while offering traceable origins.

To learn more about Christina Malle and to view
her jewelry collections online, visit christinamalle.
com.
---