LYNWOOD MAYOR JADA CURRY AND THE LYNWOOD VILLAGE BOARD THRILLED OVER GOVERNOR PRITZKER'S RECENT VISIT AND CANVASS OF LYNWOOD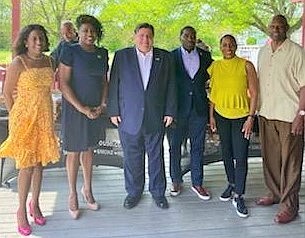 ---
LYNWOOD MAYOR JADA CURRY AND THE LYNWOOD VILLAGE BOARD THRILLED OVER GOVERNOR PRITZKER'S RECENT VISIT AND CANVASS OF LYNWOOD
Jada Curry -Mayor of Lynwood -is expressing her gratitude to Illinois Governor JB Pritzker and Lieutenant Governor Juliana Stratton for their recent visit to the Village of Lynwood. Mayor Curry and members of the Lynwood Village Board were able to tour the duo throughout Lynwood showcasing the wonderful communities and people who make Lynwood a beautiful place to live.
In addition, the Governor and Lt. Governor took part in a working lunch discussion to hear firsthand from Mayor Curry of the many positives concerning Lynwood, but also challenges in which Lynwood and communities alike will face in this current economy.
"I'm grateful to both the Governor and Lieutenant Governor for their visit but more so for their concern for Lynwood and the entire Southland. I was also encouraged by their commitment to the upward mobility of our town. I'm honored that we were able to showcase our "Lynwood Proud" culture and environment. says Mayor Curry.
The mayor was equally thankful for the participation of members from the Lynwood Village Board, Lynwood Public Safety departments and the overall administration for their efforts to ensure that the day was effective, informative, and inspiring.
The Governor was impressed by hearing of the amazing accomplishments of Mayor Curry's first year in office. The Mayor and the Village Board have successfully lured many new residents and businesses including that of a new Dollar General Store and the Mae's Ques House restaurant.
The Villages finances were enhanced by two tax anticipation warrants being paid off that had presented serious challenges to the town in years prior. The Mayor and Village Board are now firmly engaged in attracting more businesses that will allow the administration to continue paying down debt that predates Mayor Curry's term as Mayor.
Under the Curry administration, the Fire Department no longer is subjected to a paid-on call system of work. In fact, Lynwood now has a part time department that will now enhance their ability to respond to calls in a timely manner. Moreover, the Mayor and the Village Board appropriated more funding for the Lynwood Police department which includes new body cameras, a new vehicle fleet, and increased training for all officers. The Village closed out the process for the Sergeant's promotions and from that, three new sergeants have been announced.
The Public Works Department personnel are all now up to date in their training. The Mayor and the Board are now focused on making investments in the department's machinery.
"I am proud to serve as Mayor of our town and thoroughly enjoy being our town's biggest cheerleader. We've accomplished much in the past year and have so much work to get done. This recent visit by the Governor and Lt. Governor is a shinning example of our progress and commitment to the upward mobility of our residents.
---