Viola Davis Dons LILYSILK for People Magazine Cover and Deadline Contenders Event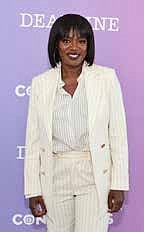 ---
 Viola Davis Dons LILYSILK for People Magazine Cover and Deadline Contenders Event

LOS ANGELES PRNewswire -- LILYSILK, the world's leading
silk brand with a mission to inspire people to live spectacular, sustainable lives, has dressed Viola Davis, the renowned actress who currently stars as Michelle Obama in the new Showtime series The First Lady, for both the latest cover of People magazine and Deadline's Contenders Television event held in Los Angeles on
Monday, April 11.

Ms. Davis graces the cover of the latest issue of People, which hit newsstands on April 15, wearing a LILYSILK Long Sleeves Collared Silk Blouse in Azure. Made of 19 momme silk and spandex, this blouse features back pleats and a curved hem, which is ideal for tucking into jeans and trousers – just as Ms. Davis did in her cover shoot. At Deadline's Contenders Television event, Ms. Davis wore a LILYSILK SOS Shirt, the brand's new iconic design that debuted in the Spring 2022 Collection, in Navy Pinstripe. With its relaxed fit, this contemporary classic, made of 19 momme Charmeuse silk, is a versatile addition to the modern woman's wardrobe and adds an instant touch of sophistication with its glossy shine.

LILYSILK is a world-leading silk brand with a mission to inspire
people to live spectacularly as well as more sustainably, driven by its care for its customers as well as the planet. For more information, visit www.lilysilk.com and follow @lilysilk on Instagram and @Lilysilk on Facebook.
---