Bally's Corporation chosen as Chicago Casino License holder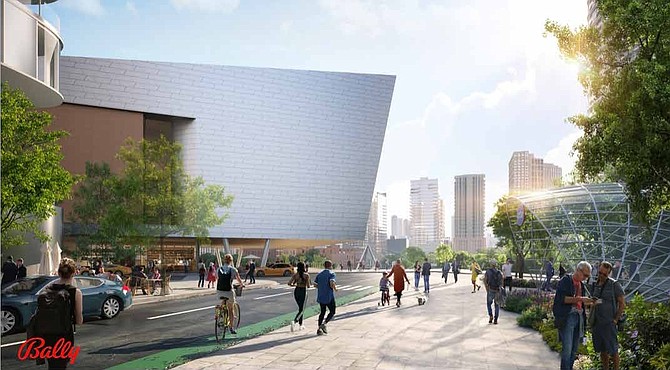 ---
 Bally's Corporation chosen as Chicago Casino License holder

By Tia Carol Jones
On Thursday, May 5th, Chicago Mayor Lori Lightfoot announced that Bally's Corporation would receive the casino license for its proposed casino at the Tribune Publishing Center, located at Chicago Avenue and Halsted Street in the city River West neighborhood.

"Following significant analyses and community input on all aspects of our three finalists for Chicago's casino license, the selection committee and I have chosen Bally's to move forward in the development of the City's first integrated casino resort. We are confident that Bally's Tribune Publishing Center development will shore up the City's pension funds, create thousands of good-paying jobs, and lead to a bright financial future for our city," Lightfoot said in a release.

Bally's Corporation was one of three finalists for the casino license. Hard Rock and Rivers78 were the other two. Bally's initially had two proposals on the table, one at the Tribune Publishing Center and another at the McCormick Place Truck Marshalling Yard.

In 2019, legislation that would expand gaming and authorize a Chicago casino was signed into law. In August 2020, the City of Chicago issued a Request for Information to get information and ideas from casino operators and real estate developers. In April 2021, the City issued an official Request for Proposals for a casino-resort. By December 2021, the City of Chicago announced there were three companies with five proposals that were finalists. Those companies presented their proposals to the public. In March 2022, Bally's, Rivers78 and Hard Rock hosted community engagement meetings where members of the community could ask questions.

"I am proud to support the forthcoming Bally's Chicago casino here in the 27th Ward," 27th Ward Alderman Walter Burnett said in a release. "It will be a world class entertainment destination that provides jobs, boost tourism numbers and brings a host of incredible amenities into the 27th ward. This is a once in a lifetime opportunity for the City of Chicago and it will be a premier destination for generations to come."

Bally's Chicago is a $1.7 billion project which will include 3,400 slots and 170 table games, 10 food and beverage venues, a 3,000-seat theater, a 500-room hotel.  Bally's Chicago also has a Community Investment Program, which according to the company, "reserves 25% of the equity in Bally's Chicago with matched financing that would allow hundreds of local and underrepresented communities of investors to own a piece of [Bally's Chicago]."

The project is expected to generate more than 3,000 construction jobs and 3,000 permanent jobs. According to a release, the casino-resort also is expected to generate approximately $400 million a year in gaming and other revenues for the City of Chicago and the State of Illinois.

"We would like to thank Mayor Lightfoot and her office for conducting a tough, but fair, RFP process, and selecting Bally's Chicago as the final bidder for the City's casino," Chairman of Bally's Corporation Board of Directors Soo Kim said in a release. "Chicago is a unique and vibrant city, deserving of world-class gaming and entertainment destination that is of, by, and for the people by driving the local economy, supporting local labor, creating multigenerational wealth for minority investors, and showcasing the best of what the City has to offer. We look forward to continuing to work collaboratively with Mayor Lightfoot, and all of our valued community partners on this exciting endeavor."

The City of Chicago will host a community engagement event from 7 p.m. to 9 p.m. on Thursday, May 12th, at the UIC Forum, located at 725 W. Roosevelt Road. To register, visit tinyurl.com/56kd3n3u.
---