2nd Year of Z Fest celebrates life of talented artist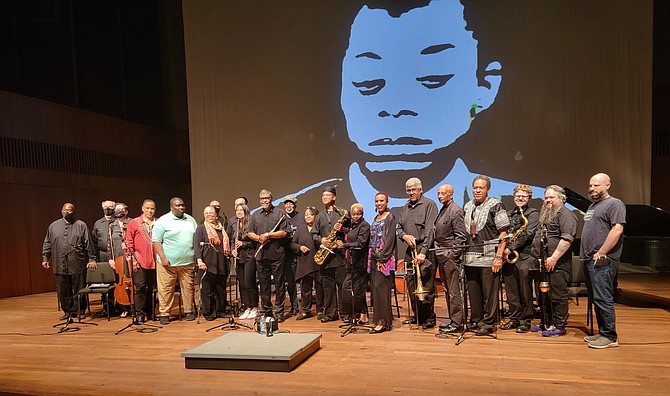 ---
 2nd Year of Z Fest celebrates life of talented artist

By Tia Carol Jones
Taalib-Din Ziyad knew when his son Saalik Ahmad Ziyad was a baby that he had a kind and gentle spirit. Ziyad said Saalik was a gifted, lovable human being. He never heard Saalik bad mouth or talk about anyone, and he always tried to help people.

"He was very giving with his music knowledge. He just loved people, he was a very sociable person. He was a special person," Ziyad said. Saalik transitioned in 2019 at age 40. Ziyad couldn't believe how many lives Saalik touched. There were more than 300 people at his memorial service.

In 2021, Lewis Achenbach and musician Adam Zanolini approached Ziyad and his wife, Daaiyah A. Ziyad, asking if they could have a festival to honor their friend Saalik. Achenbach and Zanolini asked if the Ziyad's would be involved with the festival and they said yes. After the first festival, it was decided the festival would be an annual event.

The second Z Fest took place from Thursday-Sunday, June 2nd-5th, at locations across the city of Chicago. During the first night of Z fest, Reneé Baker and the Chicago Modern Orchestra Project presented The Baldwin Chronicles 4: The Art of Being Black. Other performers included James Sanders and Conjuncto, Preyas Roy Quartet, Lynne Jordan Quintet, Donovan Mixon's World Jazz Quintet and members of the Association for the Advancement of Creative Musicians, conducted by Mwata Bowden.

Ziyad believes the artists who performed agreed to do the festival out of love and respect for Saalik. Achenbach worked with Saalik on his gigs, creating artwork while he performed. Zanolini performed with Saalik and Taalib-Din Ziyad as part of the Association for the Advancement of Creative Musicians.
Achenbach and Zanolini wanted to continue to collaborate with Saalik, through music. Achenbach said that Saalik touched a lot of people's lives creatively, from travelling around the world to working with music conservatories.

"He was just a very, very sweet and powerfully talented young man," Achenbach said. "For me, it was let's keep him alive through the music and it will be better for us, too. Let him continue to affect our lives in a positive way."
Achenbach said one of the great things about Saalik was that not only was he a fine jazz vocalist, he was schooled in the AACM, the avant garde, creative and Black music tradition. The legacy lends itself to have very creative musicians perform at Z Fest.

While last year the festival performances were recorded and streamed a week later. This year, the performances were live, but also streamed and recorded for those who couldn't be there in person.

"It's nice to have community support for this festival. Even though we're young, it's nice to have community support and media support. It's encouraging for us to keep on going into the future. We all know what this is about and its all about Saalik," Achenbach said.

Ziyad hoped that people got a good feeling after attending the festivals. On the first night, after the concert, there was a Q&A and people expressed how much they enjoyed the concert, the instrumentation and the vocalists and the ensembles.

"We just want people to go away with a sense of well-being and a sense of kind of knowing a little bit about who Saalik was, and what he meant to the music community," Ziyad said, adding that a lot of people in the audience during the concerts knew Saalik.

For more information about Z Fest, visit zfestchicago.com.
---