FRIEND HEALTH OPENS IN WOODLAWN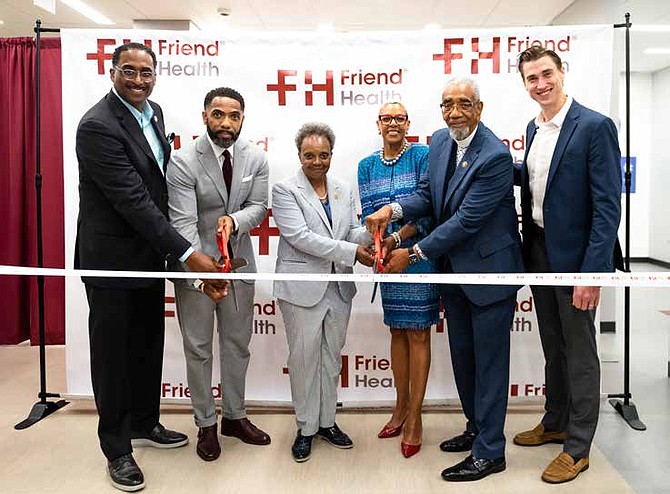 ---
 Friend Health opens in Woodlawn
BY TIA CAROL JONES
The $43 million project includes a two-phase medical
campus. The Friend Health facility was part one of the
plan. The project was developed by DL3 Realty, designed
by Moody Nolan and constructed by Power and Sons.
Leon Walker, Managing Partner of DL3 Realty,
was thrilled with the completion of the project, which
will bring 250 jobs and serve more than 35,000 patients
annually. For him, it shows how investment and scale can
come together.

"It's great to bring investment and scale to this corner,
where POAH and others have started on the East side
of the street. We're hoping to now complete the West
side of the street, a four corner solution that is in the center
of Woodlawn will create a ripple effect that goes out
to nourish the rest of our community," Walker said.

Verneda Bachus, CEO of Friend Health, believes that
having Friend Health in Woodlawn would change the future
of the community, because it would change the lives
of people on the South side of Chicago.

Friend Health was launched in 1997 and provides
comprehensive, dental, medical and behavioral health
services that are culturally appropriate. The Woodlawn
facility is the 7th and largest medical health facility
Friend Health has opened.

"Because of the Friend Health Woodlawn Health
Center, residents of this community will have improved
access to high quality primary care, offering opportunities
to build meaningful relationships with primary
care physicians and providers who deliver culturally
appropriate care while encouraging healthy lifestyles,"
Bachus said. "This facility belongs to the community.
It is our intent that this beautiful facility will serve as a
hub for community well-being. A place where the people
of Woodlawn and the South Side of Chicago come, not
only for healing, but to maintain and support healthy
lifestyles."

Those who seek healthcare at Friend Health's
Woodlawn facility will receive access to providers who
care for the entire family, as well as oral healthcare and
mental healthcare. There will be an on-site pharmacy for
convenient prescription pick-up.

Congressman Bobby Rush, D – Dist. 1, talked about
what was once in the space where the Friend Health
facility is and the reimagining of spaces. He said the new
healthcare facility is part of a new reality.

"We can never lose the authority to reimagine our
lives or our communities. Don't let anybody rob us of the
power to reimagine," Rush said, and ended his comments
by saying quality healthcare is a basic human right.

Sean Harden, Chairman of Friend Health, has been
deeply vested in Woodlawn and saw how the community
was in need of access to quality healthcare, and how lack
of access resulted in poor health outcomes. Harden acknowledged
the statistics about the life expectancy gap,
which says the life expectancy between Black and white
Chicagoans is 10 years.

"Today marks the first step in changing those statistics.
These services are a literal lifeline for individuals
and families, regardless of their ability to pay, their
immigration status, whether or not they have insurance.
None of that matters, because we all deserve to have
access to quality healthcare," Harden said.

For more information about Friend Health, visit
www.friendfhc.org.
---