Pullman Culver's receives award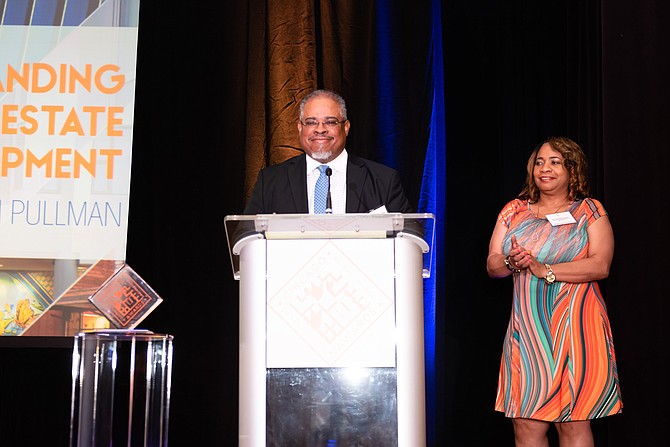 ---
 Pullman Culver's receives award
By Tia Carol Jones
Baron Waller is the owner/operator of three Chicago Culver's restaurants, one in Bronzeville, one in Ravenswood and one in Pullman. He believes everyone in the city should have access to good food and great service. He also wants to make an impact and make a difference in the city by providing jobs.

Waller and the Pullman location of Culver's, 111th and Doty, received the For-Profit Real Estate Development Award as part of the LISC Chicago's Chicago Neighborhood Development Awards.

Since 1994, LISC Chicago has awarded communities and neighborhood improvement projects, as well as recognize the community-based, non-profit and for-profit organizations connected to those projects. This year's award theme was Redesigning Legacy, and the event took place on Wednesday, June 29th.

Waller was honored LISC Chicago recognized the work he and his partners did to put the location in Pullman. From working with 9th Ward Alderman Anthony Beale, to Chicago Neighborhood Initiatives' David Doig, Powers & Sons, to have the project come to fruition, showed Waller how partnerships work.

When Waller looks for a location for his Culver's, he looks for neighborhoods where he believes the restaurant will be successful. His focus is on bringing more Culver's restaurants to the City of Chicago. He doesn't think people should have to travel outside the city to go to a Culver's.

"I look for a neighborhood that can sustain it. That's important. But, also one that there is a give and take. We bring jobs, we bring 70 jobs to that community. We always want, not just to bring the jobs, we want to grow and build in that community," Waller said.

Waller wants to ensure that the Culver's restaurants he places will be in those communities for generations. He also is ensuring that when it comes to hiring, people from those communities are getting the jobs.
"We want to make an impact in that community. I think that is the only way we can change the community. Even though we're just a restaurant, we think the 70 jobs we bring to that community, starts something and it continues something," he said.

When Culver's opened in Pullman, Waller believed the location was part of a change in Pullman, and to bring the opportunity for people to have a sit-down restaurant there, where they could congregate, feel safe and eat good food.

The Pullman location of Culver's has been there for a year. There are regular customers who come into the restaurant with their families. Seniors and the elderly come in the restaurant regularly. People thank Waller for bringing the Culver's to Pullman. It gives them a place to eat, they don't have to go out of their community to have a good place to eat.

"We're looking forward to bringing more Culver's to Chicago. Because for me, bringing more Culver's to Chicago means there are more jobs.  We're making an impact," he said.
Waller has plans to open a Culver's in Wrigleyville and another on the West side. The goal with the West side location is to bring people from the community to work in the restaurant.

"Baron Waller and the Chicago Neighborhood Initiatives' partnership exemplifies what the CNDAs are all about. The Pullman community gained its first stand-alone restaurant in over 30 years, and residents now have access to career opportunities within the Culver's national chain—and an example set by Baron Waller about what entrepreneurs can bring to the table.  A table where smart, community-informed planning meets successful growth, that's always worth celebrating," said Meghan Harte, Executive Director of LISC Chicago.
---