Leaders reflect on DR. KING'S IMPACT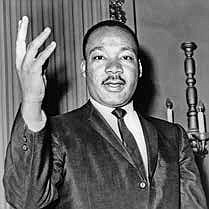 ---
 Leaders reflect on Dr. King's Impact

BY TIA CAROL JONES
The Rev. Dr. Martin Luther King Jr. has been an influence and inspiration for people from elected officials to community activists. A prolific speaker and civil rights leader, Dr. King was born on Jan. 15, 1929. The Dr. Martin Luther King, Jr. Day was first observed as a federal holiday in 1986.

KING ON WEST SIDE OF CHICAGO

In 1966, Dr. King lived on the West side of Chicago in an apartment at 1550 S. Hamlin Ave. The goal for Dr. King moving to the West Side was to shed light on housing inequities in the city. While here, he marched down State Street as part of the
Chicago Freedom Movement.

St. John Bible Church is located at 1256 N. Waller, on the city's West side in the Austin neighborhood. The Reverend Ira Acree, pastor of St. John Bible Church, compared Dr. King to Moses and said they were both clergy figures he emulates.

"They were both ministers who served and provided guidance to a generation of people who were trapped in what appeared to be hopeless situations," Acree said. Dr. King, like Moses, never limited his prophetic role to the sacerdotal responsibilities of the
church. His ministry was never reduced to merely praying and preaching about liberation in the afterlife, but he fought for and advocated for policies to impact his current generation and generations to come."

Acree has spent many years striving to be a disciple of King and talked about King being an example of how to fight for the voiceless and give people hope in the midst of despair.

"Dr. King's life and example challenges all clergy who find themselves in a suffering narrative to move away from an Egyptian survival mode type religion, and move toward a Canaan bound liberation gospel," he said. "Dr. King's example underscores how important it is to bring light and a ray of hope to all people; even those who find themselves trapped at the bottom of America's caste system."

ELECTED OFFICIALS REMEMBER

Illinois State Representative Debbie Meyers-Martin believes that Dr. King was instrumental for many people because he reminded them about the importance of being proactive and engaged as citizens and elected officials.

"Civic engagement, that was such an important lesson that we learned from him. That we, as people, need to be actively engaged in our Democratic process, in our communities and in our neighborhoods. I think that was something that we learned from him on a daily basis," Meyers-Martin said.

For Meyers-Martin, King's ability to gather people and have them bond and get them to see what part they played in the shared struggle, was something that struck her. It is something she carried into her career, to help people see that there is power in numbers. She also is aware that it is important not to be complacent and it is necessary for people to be engaged, because it is imperative to keep the country moving forward.

Meyers-Martin uses the lessons she has learned from Dr. King when it comes to equality for women and girls. Her hope is that her work for equality will benefit future women and girls. She feels she is very fortunate to have grown up in the era of the Dr. King's movement.

Darren Bryant, President of the Village of Robbins, remembered something King said in his book, "Stride Toward Freedom: The Montgomery Story," that says, "an eye for an eye leaves everybody blind." Bryant said that King's impact on his life and society is beyond measure.

"Dr. King is the GOAT, one of the greatest leaders of all time. He led through love, beyond color, beyond people but the simple concept of love. It's kind of hard to duplicate that today. We haven't had a leader since Dr. King, honestly," he said.

Bryant, as a Black Mayor and the youngest in the
State of Illinois, stands on the shoulders of Dr. King, the
late former U.S. Representative John Lewis, and President
Barack Obama. He realizes that he is standing on
a lot of legacy and it means a lot to him. He holds much
respect and honor for those that paved the way for him.

Sheila Chalmers-Currin, President of the Village of Matteson, remembers Dr. King's "I Have a Dream" speech and his belief that better will come. She called the Dr. King holiday a day to give honor to a great man.

Chalmers-Currin is inspired by Dr. King to help people and fight for economic equality every day.

"He talked about promoting a movement to fight for economic equality. As we know, as Black Mayors in the Southland, we are continually trying to carry that torch. Every day it is an inspiration to know that a great man like Dr. Martin Luther King Jr. fought for us and we can continue to carry that torch," she said.
---