Congressman Rush will not seek reelection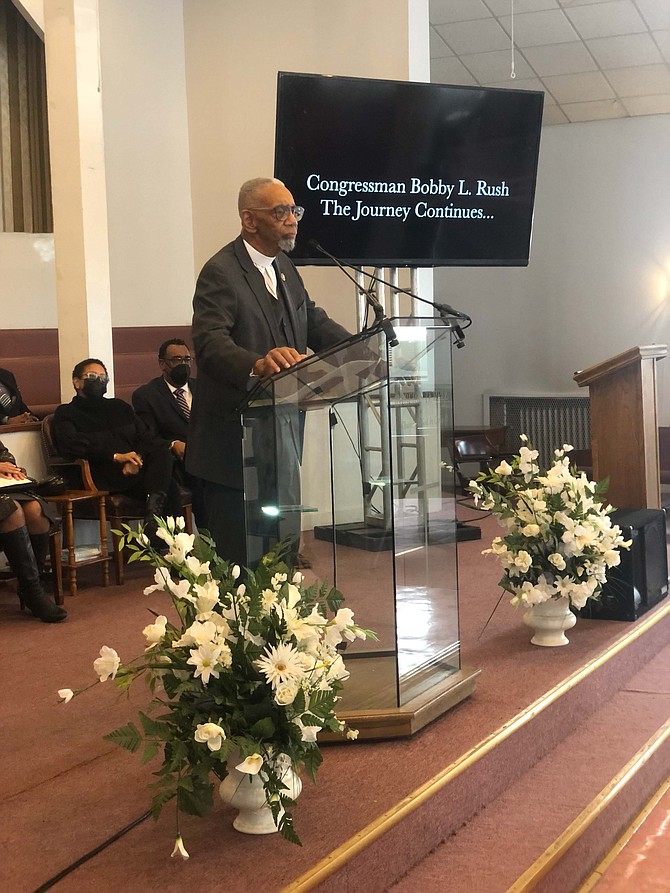 ---
Congressman Rush will not seek reelection

By Tia Carol Jones
Congressman Bobby L. Rush, who has represented the 1st Congressional District since 1993, announced that he would not be seeking reelection after 30 years of service. He made the announcement this past Tuesday, Jan. 4, at the Roberts Temple Church of God, located at 4021 S. State St.

Rush said he is returning home, to his family and to his Church family. He is also returning to Pastor the congregation at the Beloved Community Church of God in Christ, located in Woodlawn. He described it as his passion.

"My calling is to express the love. It's that love, the power of love that can transform minds and hearts. There's no better place for transformation, in my opinion, to take place than in the church with the gospel of Jesus Christ," Rush said in the video of his announcement not seeking reelection.

Rush said he will work hand in hand with whoever will replace him and with other members of Congress, because he wants to bring his knowledge and make his voice heard. Rush will remain as a public servant.

Rush was a leader in the Black Panther Party. He also served as an Alderman on the City Council for almost 10 years before he became a Congressman.

During his time as Congressman, Rush has introduced the Emmett Till Antilynching Act and the Melanie Blocker Stokes Mom's Opportunity to Access Health, Education, Research, and Support for Postpartum Depression (MOTHERS) Act. Rush also has secured $1.07 billion in federal grant funding in 2017 for the Red and Purple Modernization Project and $1.48 million in federal funding in 2018 to help expand the Red Line south, from 95th Street to 130th Street.

Bishop Edwin Walker spoke during Tuesday's announcement at Roberts Temple Church of God. He thanked Congressman Rush for being a shining example for generations and representing his district with honor and distinction.

"Because of you, African American men in Chicago and around the globe are proud to be who we are," Walker said.

Rush called Roberts Temple Church of God, where Emmett Till's funeral took place, a sacred space. "From this very spot our Nation was forever changed. The tremendous courage of Mamie Till Mobley, Emmett's mother, in keeping that casket open, will never ever be forgotten, nor diminished," he said.

Rush thanked his family for always being at his side. He acknowledged his children and other family members who contributed to him. He made it clear that he is not retiring, he is returning more of him to his family and to his church. He said he is answering his higher calling.

"Remember, in the 30 years with me at the end of my historic term, please don't make the argument that I am cutting and running. I have lived my life running to the fire, and not from the fire," he said.

Rush said he will remain on the frontline of the battlefield. And, he wants his community to be included into the wealth of this nation.

According to the Federal Election Commission, at least seven people have filed as candidates for the 1st Congressional District seat after he leaves. 
---