GOOD GREEN AWARDS ORGANIZATIONS WITH GRANT MONEY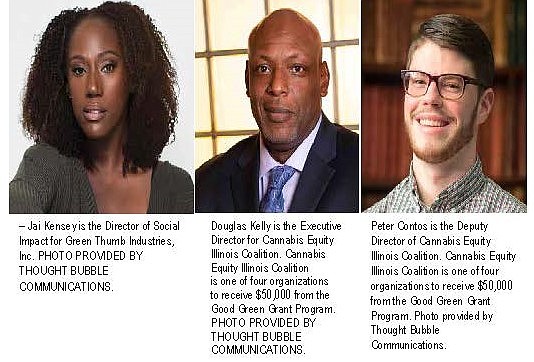 ---
 Good Green awards organizations with grant money

BY TIA CAROL JONES

Good Green, which is the cannabis flower brand owned by Green Thumb Industries, Inc., launched in 2021. The aim of the brand is to reinvest cannabis money back into communities that have been disproportionately affected by the War on Drugs. The Good Green Grant Program is one of the ways it works with a non-profit organization whose focus includes Good Green's four pillars which include expungement, employment and education.

"Just over a year ago, Good Green was launched with the goal of
creating opportunity within Black and Brown communities that have been disproportionately impacted by the War on Drugs," Green Thumb Founder, Chairman and Chief Executive Officer Ben Kovler, said in a release. "Since then, the grant program has funded a spectrum of meaningful, mission-driven initiatives to foster change and help repair cannabis-related injustices. We are honored to support four additional organizations in their efforts to rectify the wrongs of cannabis prohibition and uplift those negatively affected."

According to Jai Kensey, Director of Social Impact for Green Thumb Industries, Inc., the four organizations were chosen because they are in the trenches and trusted in the community. Kensey, who worked in the non-profit world, knows how important having unrestricted funding is to organizations.

The Cannabis Equity Illinois Coalition was founded in 2019 in
preparation for the legalization of marijuana. The non-profit works on expungement, wraparound resource fairs, youth advocation and education and policy work. Since it was founded, the organization has serviced thousands of people with record clearing, and at least 500 people with direct legal service. It is part of the New Leaf Illinois Network, which assists those with a cannabis conviction or arrest with legal services to get their record cleared.

"Organizations like the Coalition, they're extremely well-known in
not only Illinois, but other markets, doing a tremendous job in terms of expungement work, tirelessly working for immediate expungements and providing wraparound services. It was a no brainer for us to support them. If you're in Illinois and you don't know the Coalition and you're in this space, it's like you're not in this space," Kensey said.

Peter Contos, Deputy Director of the Cannabis Equity Illinois Coalition, said Illinois made a lot of promises when it legalized marijuana, with its policy work, the Cannabis Equity Illinois Coalition intends to hold Illinois accountable to repair from the war on drugs, as well as ensure Illinois' adult use cannabis industry is equitable, inclusive and everybody has an opportunity to compete.

Douglas Kelly, Executive Director for the Cannabis Equity Illinois
Coalition, said the $50,000 the organization received from the Good Green Grant will be used to hire an in-house lawyer to take on the expungement process. Kelly would also like to see automatic expungement for those who were imprisoned for cannabis offenses.

"We have to end permanent punishment. It's sad to see individuals out of prison 20-30 years, haven't done anything else wrong, but they still can't get resources, they still can't get employment, they still can't get housing, they can't even rent an apartment. As a society we have to do better," Kelly said.

Contos wants to see the returning citizen process holistic and more humane. The grant will be huge for the Cannabis Equity Illnois Coalition as it will help them put the humanity back into their work and make sure people get the time and respect they deserve to move through the expungement process.

Going into 2023, Good Green is looking to be more thoughtful about where the greatest impact is, being intentional about working with organizations on the ground and in the trenches. Kensey is a true believer in working with organizations on the ground providing specific services. Good Green anticipates it will start to look at how it can move into the employment pillar, looking at how it can get more people who have had their records
expunged into the cannabis industry.

"I think for 2023 we'll really focus on looking at the individual pillars more thoughtfully, to ensure that we're really making an impact on individual's lives," Kensey said.

For more information about the Cannabis Equity Illinois Coalition,
visit cannabisequityil.org. For more information about Good Green, visit good.green.


---