CHICAGO AREA NATIVE AWARDED PRIZE FOR GUN SAFETY DEVICE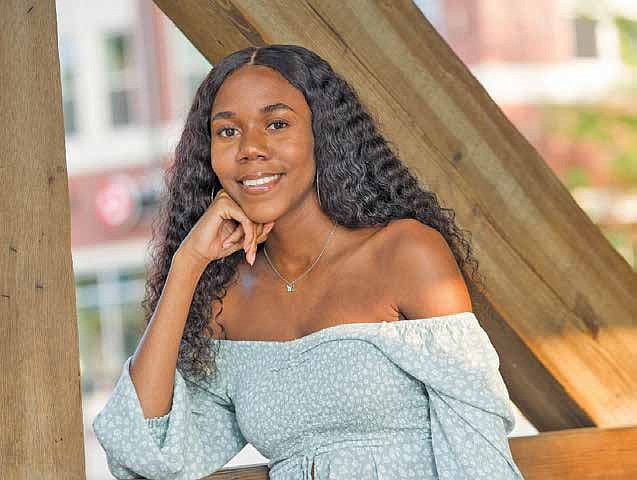 ---
 CHICAGO AREA
NATIVE AWARDED
PRIZE FOR GUN
SAFETY DEVICE

BY TIA CAROL JONES 

Kayla Austin came up with the idea for My Gun's Been Moved
when she was 12 years old. Seven years later, Austin has been awarded a cash prize for the gun safety device by Pharrell
William's Black Ambition.

My Gun's Been Moved was a project Austin created while participating in the NAACP's Junior ACT-SO. Through doing research, she learned that a large portion of shootings involving
children happened using parent's guns. She realized parents needed a way to monitor their weapons. With her parent's encouragement, at 13, she began going through the patent
process.

My Gun's Been Moved is a smart pad that is connected to an app that people can subscribe to. People can add people on the app to receive notifications. When the gun has been moved
from the pad, the app alerts the user. It allows the user to call the local law enforcement or an emergency contact. "This is something that people can put on a shelf or in a drawer or even in a safe, if they want that extra protection," Austin said.

Austin is now a sophomore at Howard University. She learned
how to turn her idea into a business model after taking Marketing for Startups. Austin followed Black Ambition, created a prototype for her product and applied for the award this summer.

Being part of Black Ambition has been amazing for Austin. As a
semifinalist, she was given a mentor who helped her with the marketing and business aspect, as part of the Black Ambition Young Futurist Program. In November, she found out she was one of 25 people to be awarded the cash prize.

"What makes Black Ambition different than other entrepreneurship programs is they also focus on the well being of founders and entrepreneurs. So, what it looks like to manage your time, or do meditation. They really emphasize taking care of yourself, which is something I also appreciate about the
program," Austin said.

Because Austin has always been involved in academics and community organizing, she was able to balance being in class and doing work, while giving back to people and working on
what she is passionate about. Because of her participation in Black Ambition, she learned how to block out time for
all the things she needed to get done. Leading up to the day she pitched her product, she worked on her pitch twice
a day with a coach. She has been able to find balance within herself.

The goal is to get $1 million. It would enable Austin to manufacture the pad, as well as do civic engagement
with school districts and host community forums. The aim is to start a conversation amongst families and parents about what they can do in their homes to prevent gun violence. The target to manufacture the product is $100,000.

When she found out she was a semifinalist, she was brought to
tears. She felt like she won at that point. Being a finalist, was an exciting moment for her.

"I've grown up always been a Pharrell fan, so to be part of his
ecosystem is also something I'm honored to be a part of," Austin said.

The next steps are to fully manufacture My Gun's Been Moved
and get it into the market. Austin is planning to attend the Eureka Park at CES in Las Vegas in January. She wants to events in the Washington, DC, Maryland and Virginia Area to build the network and community there.

For more information about My Gun's Been Moved, visit mygunsbeenmoved. com, follow @mygunsbeenmoved on Instagram.
---