The LUV Institute Displays Parade Of Hearts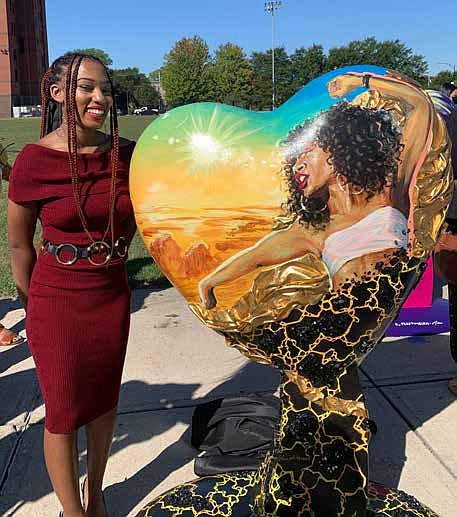 ---
The LUV Institute Displays Parade Of HeartsBy Tia Carol Jones
The Love, Unity and Values (LUV) Institute, founded by Cosette Nazon-Wilburn, is inspiring healing and transformation in communities that need it the most with its Parade of Hearts.  It is an art installation that will be on display in 11 communities.
The LUV Institute was founded by Nazon-Wilburn in 2013 and provides a social and emotional approach to college and career readiness for men and women of color who have experienced trauma.
"I think its safe to say after coming through the COVID-19 pandemic, adults and young people alike are experiencing trauma," Nazon-Wilburn said.
Nazon-Wilburn described the art as a public art project with a purpose. The five-foot heart sculptures, which were designed and decorated by local artists, will be on display in Hyde Park, Back of the Yards, Chatham, Douglas, Grand Boulevard, Greater Grand Crossing, Kenwood, Oakland, South Shore, Washington Park and Woodlawn. "We used restorative justice and art to bring healing to the community," she said.
Nazon-Wilburn had a conversation with the LUV Institute's deputy director Linda Moore-Upshaw about healing the community and taking the organization's work outside of its four walls. Input was received from teachers, students, community members and those people wanted something more, some healing. Thus The Parade of Hearts was born.
The Black United Fund of Illinois, Comer Education Campus, Future Ties, My Block, My Hood, My City, New Community Outreach, Organic Oneness, Port Ministries, Restored Hope Chicago and UChicago Charter School served as partners for the project. "This project is about strengthening the ties between our communities and coming together to heal," Nazon-Wilburn said.
Mayor Lori Lightfoot said the hearts spur an important conversation about healing, and love and nurturing as well as addressing the trauma that communities across the city are facing. Lightfoot talked about the challenges young people in the city deal with – violence, financial insecurities, and those brought on and exacerbated by the pandemic.
"There are clear barriers to youth success that we as a city must come together and continue to address, and that's exactly where the LUV Institute comes in," Lightfoot said. "What the LUV Institute acutely understands is that challenges cannot be overcome without long term solutions. That's why this amazing organization is laser focused on giving young people the tools they need to cope with life's adversities and to build their social emotional wellness."
Lightfoot acknowledged 5th Ward Alderman Sophia King and her advocacy for equity across the city, as well as for her community. King and The LUV Institute have partnered on projects to create a safer Bronzeville, with the community together, making changes.
"This project is special because it stops to acknowledge a particularly difficult time in Chicago, COVID and the social unrest that has highlighted systemic issues in Black and Brown communities and forced us to stop and recognize who's essential," she said.
Damon Lamar Reed is one of the artists who designed and decorated a heart that will be on display in Hyde Park for the Parade of Hearts. Reed wanted to make the heart represent the community as well as himself. Reed's piece is called Reconnecting and depicts a man coming out of a computer screen with lines connecting.
"Once the pandemic started everybody went into their bubbles, and now things are starting to free up, but now people are still nervous to come out of those bubbles," he said. "All of these connections are being made. Once people are able to come out of their bubbles, people are starting new businesses and creating new relationships. Even though a lot of things were broken, stronger connections are now being made."
For more information on the LUV Institute, visit www.luvinstitute.org.
---