HYDE PARK DAY CARE PROVIDES THERAPEUTIC NEEDS TO CHILDREN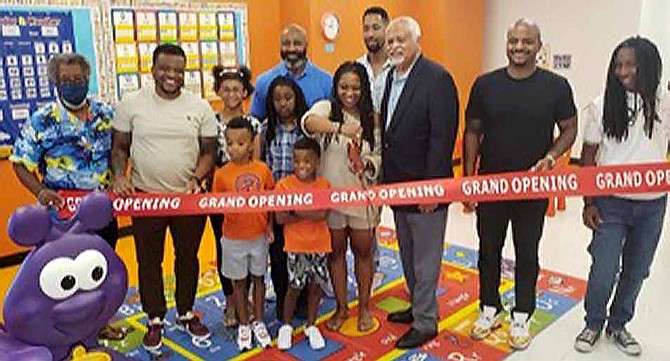 ---
Hyde Park Day Care provides therapeutic needs to children

BY TIA CAROL JONES

Kiley Russell, founder and executive director of Kemit Academy, first opened the day care, with a focus on children with different needs 16 years ago. She was trying to find a space for her older son that wasn't all play but not strict and structured all day. As a school administrator, she was working many hours each day but spending a few hours with her son.

Russell's youngest son, was a little bit different, had unique needs. She was shuffled off by his pediatrician, something she said in talking to other Black and brown families was a pattern. Her son needed speech and occupational therapy. Russell would drive to the North side an hour and twenty minutes each way for his services.

Russell was put on waitlist to get services at hospitals closer to where she lived. She was motivated to go back to school for her certification in early childhood and special education. She made it her mission to reopen Kemit. She wanted Kemit Academy, located at 51st and Dorchester to be an all- inclusive
space.

"School is for everyone. A child shouldn't be turned away because they have different needs, or a school can't accommodate them. A lot of times in the early childhood setting, that's what happens, they're turned away. If there's a child in a wheelchair, oftentimes, all of their education and social experiences happen inside of their home because either the parent can't transport them or they're working," she said.
Russell said families might not be able to logistically get their child to a place during those early years if they have different needs.

Russell lives in Hyde Park and is a firm believer that one should be able to work and live in the same place. The community is centrally located and easily accessible to families.
Kemit Academy has families from the southern suburbs and from the West side. She called Hyde Park Kemit's "forever home." She looked for an available space for a number
of years before she found the space where it is now.

There are no COVID-19 restrictions on day care centers, so it is currently open at 100% capacity. As far as the therapeutic side of the center, it is a challenge because a lot of families were being served virtually.

"We were offering virtual services, but we know that some
children absolutely need in person instructions and in-person
services. We have been able to accommodate that. We initially
had to pause our social skills group, activities and took them to
one-on-one and now we're welcoming families back in person for occupational therapy and speech therapy," Russell said.

For the daycare center, Kemit is licensed for 90 children. For the therapy, it depends on the needs of the children. It varies from month to month and is based on their progress. Kemit offers free evaluations, as well as services for children who are
transitioning out of day care into a school setting, assisting parents with IEP and 504 meetings.

Kemit Academy is open from 7 a.m. to 6 p.m. Monday-Friday. For more information, visit https:// kemitacademy.com, or call 773-966- 5039.
---