THE UNIVERSITY OF CHICAGO FIRST YEAR STUDENTS ARE ENCOURAGED TO ENGAGE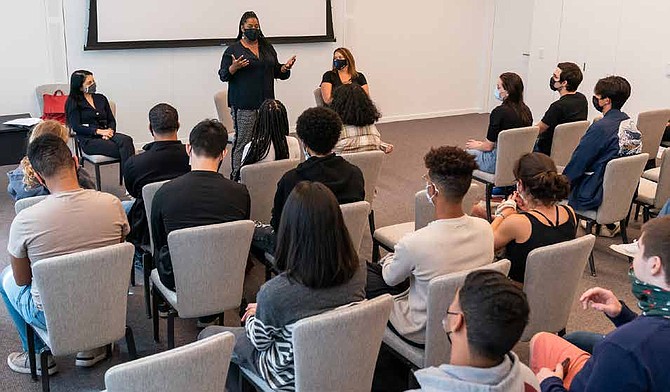 ---
 The University of Chicago first year students are encouraged to Engage

BY TIA CAROL JONES
Students sat intently and listened to Greg Mason, the principal of Murray Language Academy, talk about how they, as students at the University of Chicago, could work with the students at Murray.
"You all come and do amazing work with our students, it always exciting to have you engage. Some of the content that you
all bring is just amazing," Mason told the students.

First year University of Chicago students participated in a day-long event as part of their orientation. The goal of Engage Chicago is to show students the importance of learning and contributing to the South Side as well as the City of Chicago as a whole.

The 2,200 students were placed in small groups and interacted with 70 community leaders which included elected officials, principals and nonprofit directors.

"At the UChicago, we encourage our students to think of the City as an extension of their campus and we hope 'Engage' gave them, most of whom aren't originally from here, an opportunity to understand a few of the ways that Chicagoans are
working to strengthen their communities. As an urban research institution, the University is in a unique position to connect
our students to meaningful ways to learn from, thoughtfully engage with, and contribute to their new city and we're excited
that so many incoming students got a chance to take that first step through this event," Shaz Rasul, our executive director
of Education Partnerships and our interim director of the University Community Service Center, said in a statement.

Alaina Harkness, executive director of Current, and Bennie Currie, principal of MBC Financial Strategies, were in another
room with the first-year students talking about the community and answering the students' questions.

Harkness is a Hyde Park resident, which means the students are her new neighbors. Current, Chicago's nonprofit innovation
hub, works with the University of Chicago and the Argonne National Laboratory to help build water innovation in the city.
"For newcomers to Chicago, our lake and our rivers are not always something they are aware of before they come and
they're just these incredible resources. I am always excited to talk to students about water and get them excited to the potential to do career and volunteering work to help water stewardship," she said.

Harkness hoped the students she spoke with were inspired to take action and do a water stewardship project and are that
their curiosity is sparked and provoked to understand the city's water challenges. Currie wanted to participate in the student
orientation because he does different things in the Hyde Park community. One of those things is recruiting people to activate the blocks. Currie wanted to get the students while their minds are fresh to understand what it is going on.

"Based on the fact that they asked for my business card and based on some of the questions, I think it helped them to get
acclimated to life in Hyde Park. I think we helped them to feel comfortable. This is something that is really benefitting their
experience," he said.

Chinara Wyke and Sage Martinez are two first year students who participated in Engage Chicago. Wyke is from Houston,
Texas and Martinez is from Albuquerque, New Mexico.

Wyke liked being able to talk to so many different people who interact with the community during the first week of orientation. It also was a surprise to the people that were able to criticize the
University, and that as students there are ways to improve the University in the next four years.

"I think a big part of that is recognizing, as students we have a responsibility to give back to the community and to give back to
Chicago itself. We're in a place of privilege being accepted to this school and I think that it's really important that we recognize
that and we do something good for the world in general," Martinez said.
---