Chef Johnson shares recipes from her heart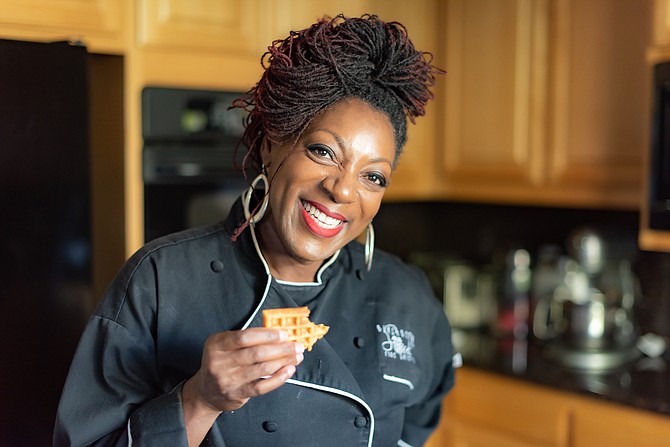 ---
Chef Johnson shares recipes from her heart
BY TIA CAROL JONES
     Chef Rene Johnson created her cookbook, "From My Heart to Your
Table," during the pandemic. It was a way to keep her business Blackberry Soul relevant and to bring Chef Rene and Blackberry Soul into people's homes. She also wanted to include vegan and vegetarian
dishes in the book so her family and clients could have the same Chef Rene Johnson and Blackberry Soul experience.

Chef Rene Johnson has a big family. Her children and mother are vegan and started to talk to her about the health benefits of being vegan. Now, Johnson cooks mostly vegan. But, if you want a piece of fried chicken, as a chef, she'll make you some fried chicken.

"When I realized that I could make red beans and rice without any meat and it taste that amazing; that I have someone chasing me through the event telling me, 'you've got to be kidding me, there's no meat in this.' I knew this was a game changer," she said.

In the cookbook, Johnson shows her love of color, love of Africa and where Black people come from. She takes soul food out of the mason jars and off the front porch. The result is bright, invigorating pages with healthy food that still have the soul.

Johnson gifted her two daughters' cookbooks that she wrote by hand, specifically for them, with personal stories from when they were growing up. Johnson took those cookbooks and combined them. In working on "From My Heart to Your Table," Johnson had to master the recipes, which was a task for her.

"As a chef and growing up, I'm used to sprinkling until my hand feels right and sprinkling until this feels good, and then grabbing a spoon and tasting it and saying, 'bam, it's done,'" she said.

Johnson had to learn how to share her recipes in a way that her family and her clients could have the same results when they made the food. Her daughters kept her on track, with measuring ingredients
and making sure the cookbook represented Johnson's vision.

Johnson is impressed by how well her first cookbook turned out. She knows her next cookbook will be off the chain because now she knows what she is doing. The next cookbook takes a healthy spin and a funky spin on Johnson's recipes. The other one is based on her mother and herself, with recipes from her world travels.

Johnson has owned Blackberry Soul Catering for 12 years. Before COVID-19, she was catering 22 events a month. When the pandemic hit, she thought she would get a chance to rest and work on projects she wasn't able to pursue before. Prior to writing the cookbook, she had
an e-book, "Quarantine with Chef Rene." Now that the quarantine is over, she changed the title of the e-book to "Cobblers and Cobbler."

Johnson's mother's favorite dish is the quinoa meatloaf. Johnson's favorite dishes in the cookbook are the butter beans and the hot water cornbread. The hot water cornbread also has a YouTube video. The
comments from people who have made it are amazing.

Johnson has received great responses from people who purchased the cookbook and tried the recipes. One person who tried the mac and cheese recipe told Johnson it was easy to make and delicious.

"The object of the cookbook is that the recipes are all based upon what we grew up on. What else is fabulous about it is, all the recipes are meant to be easy to make. They can take those recipes and put their own spin on it. We all grew up differently with our soul food," she said.

To purchase "From My Heart to Your Table" and to find out more about Chef Rene Johnson, visit www.blackberrysoul. net.
---