Culinary apprenticeship program prepares students for a career in the hospitality industry
5/5/2021, 1:48 p.m.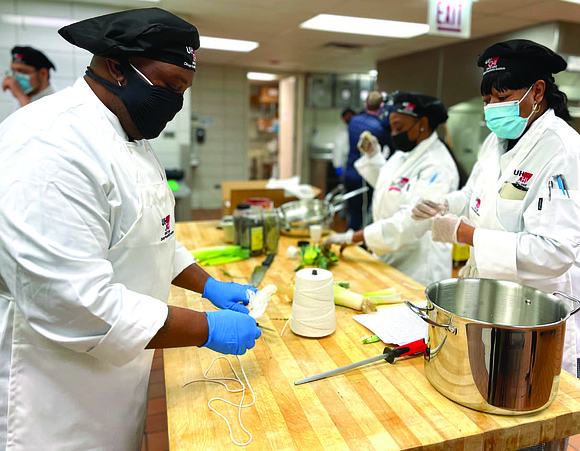 Culinary apprenticeship program prepares students for a career in the hospitality industry

BY TIA CAROL JONES
      Fifteen students, some of whom have been laid off during the pandemic, began an eight-week culinary apprenticeship program where they will learn skills that will prepare them for a career in the hospitality industry.
      UNITE HERE Chicago Hospitality Institute, along with HIRE360, Metropolitan Pier Exposition Authority and SAVOR… Chicago, are all a part of the UHCHI Culinary Apprenticeship Program.
    UNITE HERE Local 1 represents hospitality workers throughout Chicago and Northwest Indiana. HIRE360 is a nonprofit that connects underserved minority businesses and communities with jobs in the building trades.
      Jay Rowell, executive director of HIRE360, said the state of Illinois allocated the funding for the program in early 2020, but due to COVID-19, the roll out of the program was delayed. "We've been talking to a number of the employers who are involved with UNITE HERE and the culinary program and we all agreed that this is a good time to start the training because there's a lot of opportunity in hospitality right now," Rowell said.
     Rowell added, safety and other components have been changed to make sure the training is being done as safely as possible. He said the curriculum has not changed and focuses on the eight-week culinary apprenticeship and teaches the skill sets necessary for participants to become a chef de partie, also known as a line cook. "It is at [a] really, really high level so the students who graduate can work at restaurants," Rowell stated.
     The students will work on the components of the trade. After that, they will put those to use with an employer once they graduate, Rowell continued.
     One Friday, June 11, a ceremony will take place to move students into their on-the-job apprenticeships. "We're going to be getting the students to work right after the classroom part of the it ends. They officially complete their apprenticeship about a year later, after they've been able to put all the skills they learned in the classroom to work," Rowell stated.
     He added, the first group that included 15 students, were chosen from UNITE HERE workers who worked in hospitality, but because of COVID-19 were out of work. The next group will be chosen by HIRE360, Rowell continued.
     Rowell said the class size is intentionally small, so students have more one-on-one time with the chef. Smaller class sizes will remain throughout the program, but there will be more cohorts.
     Chef David Oland, executive chef and UHCHI Culinary Apprenticeship Lead Instructor, said he wanted to be a part of the UHCHI Culinary Apprenticeship Program because when you cook for a living, you have knowledge you want to share. "The problem is that the audience you want to share this with is relatively limited. Not a lot of people do what I do, everybody cooks at home … but it's not a lot of people that cook for people you don't know and there's something special about that," Oland said. "The reason why I wanted to be part of this — because in the profession of cooking, there's a lot of different levels."
     Oland said there is a big difference between cooking in a banquet hall and cooking in a smaller restaurant. "Furloughed employees have the opportunity to come into a situation almost like a professional cooking school to go back and look at your career and see there's a lot more to it, and I can change my skills, or I can up my skills. And, that's what we're offering," Oland said, adding that he wanted to share what he knows with the students.
    Oland said students are learning the true fundamentals of what one would learn going to a culinary school. Oland, who has been cooking for 30 years, said he was fortunate enough to attend a community college where he learned the fundamentals of cooking.
     "What we've done here is we've compressed some of the best culinary schools in America into an immersion course, an intensive immersion course. We're teaching the fundamentals, the excitement, the knowledge of cooking you would learn if you attended a really expensive culinary school," Oland said. He added, for the first week of instruction, the students are doing remarkably and added it comes down to enthusiasm and passion.
     Oland said the students have the enthusiasm and passion to learn more and added that the goal is for the students to rise through the ranks of a restaurant kitchen to become a chef. "This program is designed to take our basic knowledge and raise it to a level where you can walk into a prestigious hotel or restaurant and compete with everybody, that's my goal," he said.
      The program has the potential to take people without any cooking skills and give them an opportunity to gain knowledge in a compressed amount of time while participating in an immersive and intense program, Oland stated.
     Hamet Andrewin is a participant in the program. He said when he heard about the program, it was interesting to him. He's been cooking for 15-20 years and worked for McCormick Place for eight years. "When I heard about the program, let me hone in on my skills, hone in on what I'm trying to perfect for myself, which is to be a better cook," he said. The first week was really exciting, Andrewin said. He is learning the correct terminology and how to handle a  knife better, he said.
     There's always room for improvement, Andrewin continued. "I'm learning a lot of different things like making different sauces and making different stocks, from the blondes to the browns, so it's very interesting and very exciting to me," he said.