CHILD TAX CREDIT BENEFITS FAMILIES IN THE 1ST DISTRICT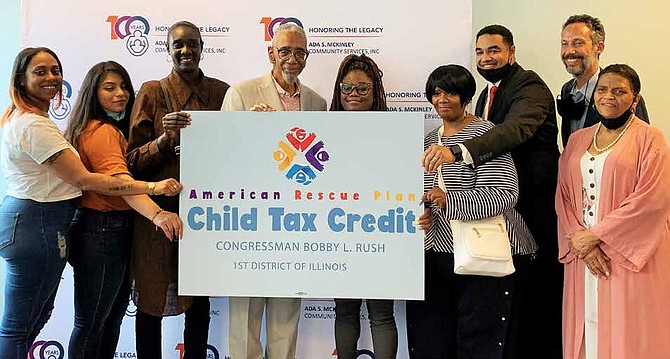 ---
Child Tax Credit Benefits Families In The 1st District

BY TIA CAROL JONES

Lana Waters is an employee and parent of a child in programs at Ada S. McKinley. She was bartender who became unemployed when restaurants and bars closed due to the COVID-19 pandemic. While her child was attending the child center, she was offered a job opportunity with Ada S. McKinley, as a contact tracer. "Ada S. McKinley has put me in more than one training class and modules to give me knowledge about COVID-19, as far as vaccinations," she said.

With the Child Tax Credit, parents like Waters will receive $300 per month, per child, younger than 6, and $250 per month, per child, between 6-17 years of age. The money will help Waters save money to use for school supplies and other necessary items for her children.
 
The Child Tax Credit was part of the $1.9 trillion American Rescue Plan Act. The first set of checks distribution on Thursday, July 15, giving parents a much-needed financial boost during the pandemic.

United States Congressman Bobby Rush, D. Dist. 1, visited Ada S. McKinley, located at 8741 S. Greenwood, on Wednesday, July 21, to highlight how the Child Tax Credit would benefit families in the District.

During his speech, Rush acknowledged while the United States is one of the richest nations in the world, one in seven American children live in a state of poverty. Rush found it unacceptable
and said Congress had to do something about it and the Child Tax Credit was the answer.

The expectation is that the Child Tax Credit will cut child poverty by half this year and increase the social mobility for the children and families for the children who benefit from it. "We are answering the call and providing solutions to this pandemic of poverty among our nation's children," Rush said.

According to Rush, in the First District, 146,200 children will benefit from the Child Tax Credit. It doesn't affect SNAP benefits, Medicaid or Social Security Insurance, or any other public money
families might receive. Rush encouraged people to go online and sign up for the Child Tax Credit at childtaxcredit.gov. He also encouraged his constituents to call his office at 773-779-2400. "We made history with the passing of this Child Tax credit," he said. "In order for us to really make history, we have to make this Tax Credit permanent."

Ada S. McKinley has been around for 102 years. Its mission is to educate, empower and employ people to change their lives and strengthen communities. Each year, the organization touches the lives of 5,000 children and their families.

Jamal Malone is the Chief Executive Officer at Ada S. McKinley. Malone, who has a background in accounting and tax preparation, has a unique vantage point to how individuals receive the benefit of the Child Tax Credit.

"This really does impact and change lives," Malone said, adding that people, businesses and corporation need to create, retain and transfer wealth between generations. "It's really good to see Congress and our U.S. government, through IRS Tax Code, thinking about families and thinking about communities in creating Tax Credits that can help us and help our children", said Malone.
---