Dove and Matthew A. Cherry Team Up to Inspire Hair Love in Kids
The partnership will include a NEW range of hair care products for curls, coils, and waves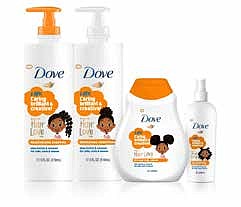 ---
Dove and Matthew A. Cherry Team Up to Inspire Hair Love in Kids
The partnership will include a NEW range of hair care products for curls, coils, and waves

ENGLEWOOD CLIFFS, N.J., PRNewswire -- Dove and Academy Award-winning filmmaker and CROWN Act advocate Matthew
A. Cherry announce an official partnership to ensure the next generation of Black kids develop a positive relationship with beauty. The partnership will kick off with a new collection of hair
care products designed for kids with curls, coils, and waves, inspired by Matthew's Academy Award-winning animated short film, Hair Love.

The Dove Kids Care Hair Love collection offers a complete hair care routine for kids with four nourishing products: Shampoo, Conditioner, Detangler, and Curl Cream. Hair Love's main character, Zuri, is featured on each bottle wearing fun and playful styles to highlight the diversity and beauty of natural hair. Product
packaging also features an empowering positive affirmation – "I am caring, brilliant, and creative" – to boost self-esteem and set kids on the right path for a positive relationship with their hair.

"Research shows that kids as young as three years old can start to build confidence when they see themselves positively represented
in the world around them1," explains Esi Eggleston Bracey, Executive Vice President and Chief Operating Officer of Unilever Personal Care, North America. "Dove and Matthew have been working in parallel to create a world where natural hair is a source of confidence in young people, and we are thrilled to officially
come together to nurture a positive self-image in kids and, at the same time, deliver products that offer the expert nourishment and care of Dove to Black families."

Each Dove Kids Care Hair Love product features a gentle formula and fun scent. All are dermatologist-tested and infused with shea
butter and coconut oil to deliver soft, moisturized, and healthy-feeling hair. The full collection is available now on Walmart.com and will be available in Walmart stores nationwide beginning January 2022.

"Dove and I have a long history together with Hair Love, beginning in 2017, when the brand provided early funding for the project. I'm also a dedicated CROWN Act supporter and have been impressed with the ongoing work Dove is doing to advance hair discrimination legislation, particularly by co-founding the CROWN Coalition,"
explains filmmaker Matthew A. Cherry. "Through this partnership, we will take Zuri 'offscreen' and into the real world to inspire hair love and build self-confidence in kids everywhere."

The new Dove Kids Care Hair Love collection builds upon Dove and Matthew's ongoing CROWN commitments to Create a Respectful and Open World for Natural Hair:

In 2018, Dove co-founded the CROWN Coalition to make race-based hair discrimination illegal in all 50 states. To-date, the CROWN Act – or similar anti-hair discrimination legislation – has
been passed in 14 states, with 36 more to go. Each Dove Kids Care Hair Love bottle features a QR code to learn more about the CROWN Act and sign the official petition to #PassTheCROWN.

In addition, the Dove Self-Esteem Project – the largest provider of self-esteem education in the world – expanded its resources earlier this year to address appearance and race-based pressures and discrimination. My Hair, My CROWN is a 90-minute, academically validated, no-cost curriculum for educators, parents and youth group leaders designed to boost hair
confidence in kids with textured hair.

Together, we can ensure the next generation develops a positive relationship with beauty. Visit Dove.com/CROWN to learn more and sign the petition.

#HairLove #PassTheCROWN #Dove- SelfEsteemProject

Dove started its life in 1957 in the US, with the launch of the Beauty Bar, with its patented blend of mild cleansers and ¼ moisturizing cream. Dove's heritage is based on moisturization,
and it is proof not promises that enabled Dove to grow from a Beauty Bar into one of the world's most beloved beauty brands.

Women have always been our inspiration and since the beginning, we have been wholly committed to providing superior care to all
women and to championing real beauty in our advertising. Dove believes that beauty is for everyone. That beauty should be a source of confidence and not anxiety. Dove's mission is to inspire women everywhere to develop a positive relationship with the way they look and realize their personal potential for beauty. For 60 years, Dove has been committed to broadening the narrow definition of beauty in the work they do. With the 'Dove Real Beauty Pledge,' Dove vows to:

Portray women with honesty, diversity, and respect. We feature women of different ages, sizes, ethnicities, hair color, type, and style.

Portray women as they are in real life, with zero digital distortion and all images approved by the women they feature.

Help young people build body confidence and self-esteem through the Dove Self-Esteem Project, the biggest provider of self-esteem
education in the world.
---