THE DOVETAIL PROJECT'S PROGRAM SETS OUT TO IMPROVE YOUNG FATHERS' LIVES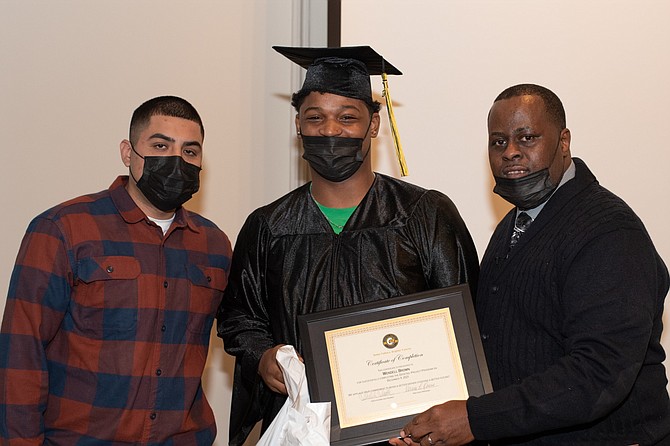 ---
 The Dovetail Project's Program sets out to improve young fathers' lives

BY TIA CAROL JONES
Sheldon Smith was 21 years old when he started the Dovetail Project. The organization's mission is to provide Black and brown fathers with skills to
make them better men, better fathers and better residents of their communities.

Smith's parents were both teenagers when he was born. His father was in and out of his life. He wanted to do something to support young fathers ages
17-24.

The Dovetail Project's outreach team goes out and recruits young fathers who need help and support. Young fathers who are selected to go through a program where they learn parenting skills, life skills and felony street law, which is equal parts family law and the criminal justice system. When the young men complete the program, they receive a job, a GED or a trade, along with a $500 stipend and one year of case management.

"We know working with dads and teaching dads is one thing, but another thing is for them to take what they're learning and utilize it effectively to be better," Smith said.

Having the resources and the opportunities available to the young fathers at the end of the program enables them to impact their families and their
communities.

Since 2012, the Dovetail Project has serviced more than 540 young men. During the COVID-19 pandemic, the organization also launched the Dovetail Relief Fund. It has impacted thousands of families by providing essential
items necessary for them to live day-to-day. In addition to food, back-to-school clothes and shoes, it has provided turkeys for Thanksgiving and trees for Christmas.

Going into 2022, the Dovetail Project wants to recruit more fathers to enroll in the program. During 2020, it had to shut down the program and this
year, it opened programming back up. Dovetail also is looking forward to impacting more families through its relief fund.

"We get a chance to see so many mothers and fathers and grandparents who are in need during that time. Our whole goal at the end of the
day is to impact families. We've been able to do it through the Dovetail Project for the last 12 years. But, for the last 18-24 months, through the fatherhood relief fund, we've been able to quadruple that impact to
include thousands of families," Smith said.

The young fathers who participate in the program experience joy, excitement and love. They also are able to receive opportunities they might not
otherwise receive.

Corporate partners have stepped up to provide fathers in the program with shopping sprees and game tickets. It gives them more exposure to experiences and enables them to see something outside of what they
are used to. Smith is grateful for the endorsement from corporate
partners. That support has allowed the organization to grow.

Smith is optimistic about 2022 and what it will bring for the Dovetail Project and the Relief Fund. He is also optimistic about what the new year will
bring for the young men and the families who participate in
the program.

"I've been doing this work over the last 12 years. I've made the work of young fathers and families my life's work. I think those are great endorsements to have when you are a small nonprofit looking to grow," he
said.

Recently, Uggs provided Smith an opportunity to tell the story of the Dovetail Project on a global platform. Those things are great, but Smith doesn't take
time to dwell on them, he starts to think about the next opportunity
for the program.

"I think most founders, that's the experience they have, too. I don't think it will really hit me, with everything we've been able to do, until I retire from this work and I'm able to make a documentary and look back on all of the impact," he said.

What keeps Smith going is the smile of the children of the young fathers he sees at the graduation of the program. Or, hearing fathers who are being
acknowledged for their accomplishments for the first time in a long time. He takes in those moments and is grateful for the opportunities to make an impact God has given him.

For more information about the Dovetail Project, visit https://thedovetailproject.org.
---