The Museum of Science and Industry ushers in the holiday season with tree lighting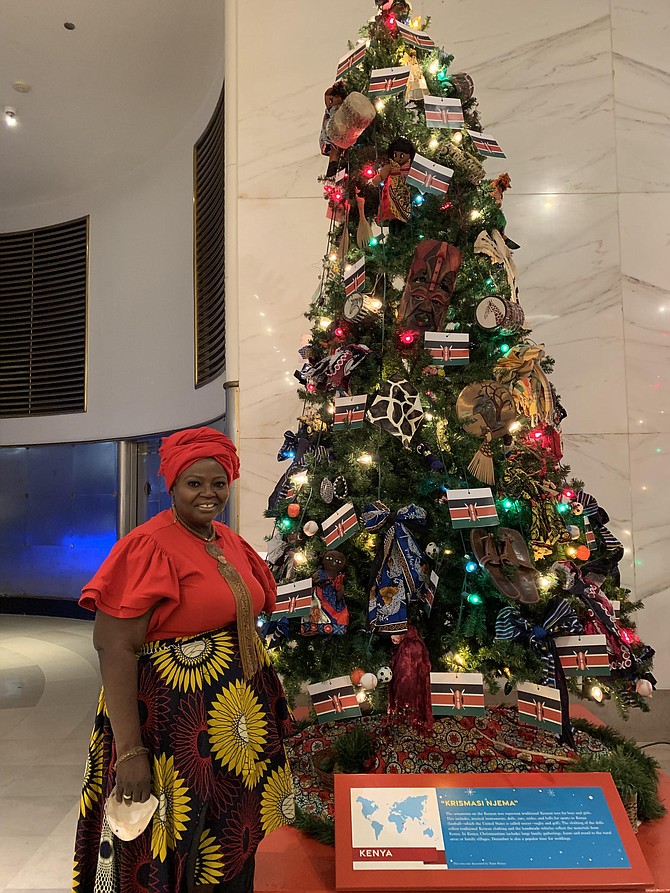 ---
 The Museum of Science and Industry ushers in the holiday season with tree lighting

By Tia Carol Jones
Most of Sheila Wesonga's life when she attended Museum of Science and Industry's Christmas Around the World, there was an Kenyan Tree. In the 2010's, there wasn't a Kenyan tree at the Museum anymore. A friend encouraged her to bring the tree back, since she loves Christmas and loves decorating for Christmas.

Wesonga has been married to a Kenyan for 35 years and has been decorating the Kenyan tree for seven years. The tree is decorated with artifacts from Kenya. It includes homemade gifts Kenyan children and young adults receive, sandals, combs, jewelry, toys and dolls.

The Museum of Science and Industry, located at 5700 S. Lake Shore Drive, celebrated the holiday season with the lighting of the grand tree in the Rotunda recently. The Kenyan Tree is just one of the trees on display as part of the Christmas Around the World and Holidays of Light, which showcases customs from more than 50 countries.

Wesonga said that the tree is not really a Christmas tree are not traditional in Kenyan. People do get together with family at that time, going back to their rural ancestral homes to see friends and families. There is a lot of cooking, eating and celebration at that time. The gifts that are given are very sentimental.

"I just wanted people to understand some of the Kenyan culture, and understand while they don't get snow, and there is rarely an actual Christmas tree decorated, this represents some of the gift giving," she said.

To say Merry Christmas in Swahili, one would say Krismasi Njema. The tree, which is decorated by Kenyans and African Americans, took about three hours this year. People wanted to make sure every aspect was displayed and not just hung, the doll's faces were visible and the masks on the tree were in prominent positions.

Wesonga said it feels glorious to be able to represent and decorate the Kenyan tree. The material at the base of the tree was given to her by her mother-in-law. It is special to give material to a young woman because it shows their love for the person they are giving it to.

It was the first tree lighting for the  Museum of Science and Industry's President Chevy Humphrey.

"I am so incredibly humbled and my heart is so warmed to be here because this is such an incredible time. We've gone through so much, with COVID, and now we're able to gather and be together, in a safe, physical distance way, but just to celebrate the holidays together. This is just so special and its special to me and you'll see every guest here today. It's good to be together," Humphrey said.

In addition to Christmas Around the World and Holiday of Lights, the Museum will have different programming. Humphrey said there will also be a lot of surprises.

Humphrey understands the importance of the Museum and what it means not only to the community but all over the world. She also knows how much joy a tradition like Christmas Around the World brings to the guests.
"It represents who we are as a Museum and we need to keep it that way. There's a big responsibility I have as a leader to continue that. I'm just humbled and honored to be here," she said.
---