Matt Forte distributed Thanksgiving meals to families On The Cities Southside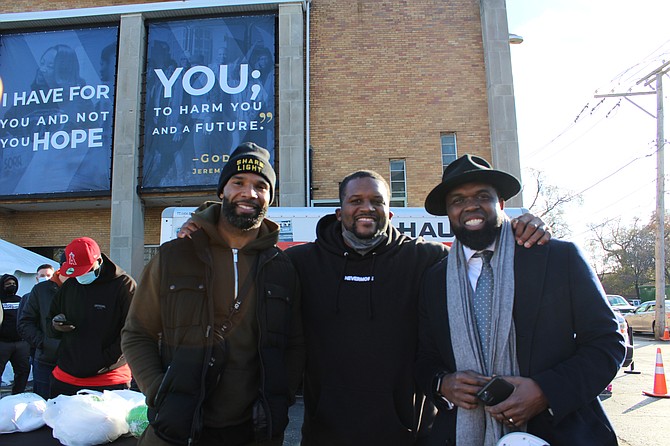 ---
Matt Forte Distributed Thanksgiving Meals To Families On The City's Southside
By Tia Carol Jones
Matt Forte believes that giving back is necessary. God has afforded him a lot in life, and he wanted to be able to do something from his heart. With that in mind, Forte, along with the What's Your Forte Foundation, partnered with Progressive Baptist Church to provide Thanksgiving meals for families in time for the Thanksgiving Holiday.

Despite the cold weather people were lined up outside to receive a turkey and box of items.  They were grateful for the generosity, as while as the people who pulled up in their cars, at Progressive Baptist Church, located at 3548 S. Wentworth.

Umoja Supply Chain Solutions specializes in the hunger relief space. It provides food for people who use food banks and hunger relief organizations. Hugh Williams, the chairman of Umoja Supply Chain Solutions, thought it would be a great opportunity to partner with Forte, as it aligns with the company's mission.

"So much of the world is built around trying to do good and do right, and we're fortunate that we can do that. I've just always been brought up in a way that's focused for yourself as much as you can for other people and vice versa," Williams said.

Williams acknowledged that while it was good to be able to provide foods for those in need; it was bad see that there are still so many people in need.

Forte's nonprofit, in partnership with the Progressive Baptist Church launched a 9-week feeding program, Blessing on the Block: Holiday Edition, which aimed to provide more than 1,000 meals to individuals, feed 300 families for Thanksgiving and support a holiday initiative to gift 100 bikes to children around Christmas. Forte hopes the event was an opportunity to have something positive in the neighborhood and have people unify around it.

"It's an initiative of mine to always give back, not just on a single basis, but to try to do something that is lasting.  With it being the holidays, food insecurity doesn't just stop when the holidays end, people aren't just hungry during the holidays.  We do this program and continue it throughout the year and try to partner with even more people to extend it into next year," Forte said.

The Reverend Charlie Dates is the pastor of Progressive Baptist Church. Being able to provide for people was a great thing for the church. "This is a church that has been feeding the hungry for a long, long time. For me personally, as the youngest Senior Pastor of this church, it means is I am continuing the legacy of faithful ministry to people in need. These grounds are sacred, they're Holy, because we've clothed people who were naked, we feed people who are hungry. To the least of these we show compassion and courage," he said.

It does more than just feels good for Forte to give back, it brings him joy. "When you can do something like that and see something that impacts somebody's life or supplies a need somewhere, that's something you can't ask for. Something that is able to be a blessing to somebody else is something we all need to do," he said.
---